Ford Fusion: Body and Paint / Rear End Sheet Metal Repairs
Special Tool(s) / General Equipment Hot Air Gun 8 mm Drill Bit MIG/MAG Welding Equipment Spot Weld Drill Bit Locking Pliers Materials Name Specification Metal Bonding AdhesiveTA-1, TA-1-B, 3M™ 08115, LORD Fusor® 108B - Seam SealerTA-2-B, 3M™ 08308, LORD Fusor® 803DTM - Removal WARNING: Before beginning any se..
Other information:
Special Tool(s) / General Equipment Rust Protection Coating Gun Undercoating Gun Materials Name Specification ValuGard™ Premium UndercoatingVG101, VG101A - ValuGard™ Rust InhibitorVG104, VG104A - Motorcraft® Metal Surface Prep WipesZC-31-B - Repair NOTE: Undercoating NOTE: The following illustrations are not vehicle spe..
Special Tool(s) / General Equipment Hose Clamp(s) Hose Clamp Remover/Installer Materials Name Specification Motorcraft® Orange Prediluted Antifreeze/CoolantVC-3DIL-B WSS-M97B44-D2 Removal NOTE: Removal steps in this procedure may contain installation details. With the vehicle in N, position it on a hoist. Refer to: Jacking and Lifting - Overview ..
Categories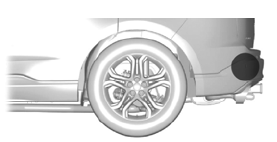 The sensors are behind the rear bumper on both sides of your vehicle.
Copyright © 2023 www.fofusion2.com