Ford Fusion: Cross Traffic Alert (IF EQUIPPED) / Cross Traffic Alert System Sensors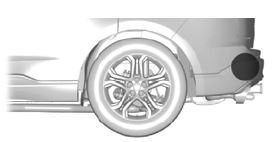 The sensors are behind the rear bumper on both sides of your vehicle.
Note: Keep the sensors free from snow, ice and large accumulations of dirt.
Note: Do not cover the sensors with bumper stickers, repair compound or other objects.
Note: Blocked sensors could affect system performance.
If the sensors are blocked, a message may appear in the information display when you shift into reverse (R).
The system detects vehicles that approach at a speed between 4 mph (6 km/h) and 37 mph (60 km/h). Coverage decreases when the sensors are partially, mostly or fully obstructed...
The system may not correctly operate when any of the following occur: The sensors are blocked. Adjacently parked vehicles or objects are obstructing the sensors...
Other information:
Push the lever up or down to operate the windshield wiper. Single wipe. Intermittent wipe. Normal wipe. High speed wipe. Note: Fully defrost the windshield before you switch the windshield wipers on. Note: Make sure that you switch the windshield wipers off before entering a car wash...
System Operation System Diagram - Power Windows Driver Side Windows Passenger Side Windows Network Message Chart - Power Windows Passenger Door Module (PDM) Network Input Messages Broadcast Message Originating Module Message Purpose Passenger window command DDM When activating the front ..