Ford Fusion: Body and Paint / Glass, Frames and Mechanisms
Special Tool(s) / General Equipment Glass Cut-Out Wire Power Caulk Gun Power Fixed Glass Removal Tool Cold Knife Knife Vacuum Cleaner Materials Name Specification Sika® SikaTack® MACH 60 / Sika® SikaTack® MACH 30 / Dow® BETASEAL™ Express - Sika Tack ASAP Urethane Adhesive - Motorcraft® Ultra-Clear Spray Glass CleanerZC-..
Other information:
B007E:11, B007E:12, B007E:13 and B007E:1A Refer to Wiring Diagrams Cell 46 for schematic and connector information. Normal Operation and Fault Conditions The RCM continuously monitors the driver seatbelt retractor pretensioner circuits for the following faults: Resistance out of range Unexpected voltage Short to ground Faulted driver seatbelt retractor pretens..
WARNING: Always drive and ride with your seatback upright and the lap belt snug and low across the hips. WARNING: Children must always be properly restrained. WARNING: Do not allow a passenger to hold a child on their lap when your vehicle is moving. Failure to follow this instruction could result in personal injury or death in the event of a sudden stop or crash. WARNING: All occupants of..
Categories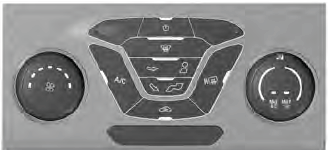 Note: Depending on your vehicle option package, the controls may look different from what you see here.
Copyright © 2022 www.fofusion2.com