Ford Fusion: Vehicle Care
Your dealer has many quality products available to clean your vehicle and protect its finishes.
WARNING: To reduce the risk of vehicle damage and personal burn injuries, do not start your engine with the air cleaner removed and do not remove it while the engine is running...
Materials For best results, use the following products or products of equivalent quality: ..
Other information:
Waxing Regular waxing is necessary to protect your car's paint from the elements. We recommend that you wash and wax the painted surface once or twice a year. When washing and waxing, park your vehicle in a shaded area out of direct sunlight. Always wash your vehicle before applying wax. Use a quality wax that does not contain abrasives. Follow the manufacturer's instructions to app..
Sound Deadeners and Insulators NOTICE: Mastic is made of a combustible material and should be removed prior to carrying out welding procedures to the area. Heat zones from welding near mastic may cause the mastic material to burn. NOTICE: Corrosion protection must be restored to the area after the mastic material is applied. Corrosion protection products may be wax based and loss of ..
Categories
WARNING: Always ride and drive with your seatback upright and properly fasten your seatbelt. Fit the lap portion of the seatbelt snugly and low across the hips. Position the shoulder portion of the seatbelt across your chest. Pregnant women must follow this practice. See the following figure.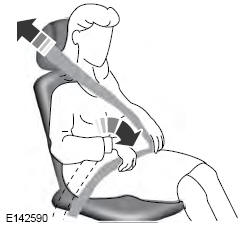 Copyright © 2022 www.fofusion2.com