Ford Fusion: Vehicle Care / Cleaning the Exterior
Wash your vehicle regularly with cool or lukewarm water and a neutral pH shampoo, we recommend Motorcraft Detail Wash.
Never use strong household detergents or soap, for example dish washing or laundry liquid. These products can discolor and spot painted surfaces.
Never wash your vehicle when it is hot to the touch, or during strong or direct sunlight.
Dry your vehicle with a chamois or soft terry cloth towel to eliminate water spotting.
Immediately remove fuel spillages, bird droppings, insect deposits and road tar. These may cause damage to your vehicle's paintwork or trim over time. We recommend Motorcraft Bug and Tar Remover.
Remove any exterior accessories, for example antennas, before entering a car wash.
When filling with AdBlue®, remove any residue on painted surfaces immediately.
Note: Suntan lotions and insect repellents can damage painted surfaces. If these substances come in contact with your vehicle, wash the affected area as soon as possible.
Cleaning the Headlamps
Note: Do not scrape the headlamp lenses or use abrasives, alcoholic solvents or chemical solvents to clean them.
Note: Do not wipe the headlamps when they are dry.
Exterior Chrome Parts
Apply a high quality-cleaning product to bumpers and other chrome parts. Follow the manufacturer's instructions. We recommend Motorcraft Custom Bright Metal Cleaner.
Do not apply the cleaning product to hot surfaces. Do not leave the cleaning product on chrome surfaces longer than the time recommended.
Using non-recommended cleaners can result in severe and permanent cosmetic damage.
Note: Never use abrasive materials, for example steel wool or plastic pads as they can scratch the chrome surface.
Note: Do not use chrome cleaner, metal cleaner or polish on wheels or wheel covers.
Exterior Plastic Parts
For routine cleaning we recommend Motorcraft Detail Wash. If tar or grease spots are present, we recommend Motorcraft Bug and Tar Remover.
Stripes or Graphics (If Equipped)
Hand washing your vehicle is preferred however, pressure washing may be used under the following conditions:
Do not use water pressure higher than 2,000 psi (14,000 kPa).
Do not use water hotter than 179°F (82°C).
Use a spray with a 40° wide spray angle pattern.
Keep the nozzle at a 12 in (305 mm) distance and 90° angle to your vehicle's surface.
Note: Holding the pressure washer nozzle at an angle to the vehicle's surface may damage graphics and cause the edges to peel away from the vehicle's surface.
Underbody
Regularly clean the underside of your vehicle using water. Keep body and door drain holes free of debris or foreign material.
Under Hood
For removing black rubber marks from under the hood we recommend Motorcraft Wheel and Tire Cleaner or Motorcraft Bug and Tar Remover.
Waxing Regular waxing is necessary to protect your car's paint from the elements. We recommend that you wash and wax the painted surface once or twice a year...
Other information:
The system helps reduce fuel consumption by automatically shutting off and restarting the engine while your vehicle is stopped. The engine will restart automatically when you release the brake pedal. In some situations, your vehicle may restart automatically, for example: To maintain interior comfort To recharge the battery Note: Power assist steering is turned off when the engine is of..
Inspection Refer to: Starter Motor (303-06A Starting System - 1.5L EcoBoost (118kW/160PS) – I4, Removal and Installation). Check the wear patterns on the starter drive gear and the flywheel or flexplate ring gear. If the wear pattern is normal, then install the starter motor. Refer to: Starter Motor (303-06A Starting System - 1.5L EcoBoost (118kW/160PS) – I4, Removal ..
Categories
WARNING: Do not adjust the steering wheel when your vehicle is moving.
Note: Make sure that you are sitting in the correct position.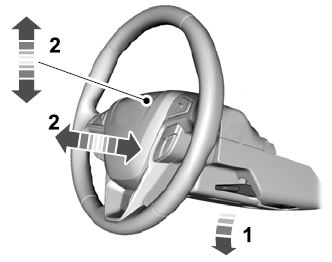 Unlock the steering column. Adjust the steering wheel to the desired position.