Ford Fusion: Maintenance / Changing the Engine Air Filter
WARNING: To reduce the risk of vehicle damage and personal burn injuries, do not start your engine with the air cleaner removed and do not remove it while the engine is running. When changing the air filter element, use only the air filter element listed.
For EcoBoost equipped vehicles: When servicing the air cleaner, it is important that no foreign material enter the air induction system. The engine and turbocharger are susceptible to damage from even small particles.
Change the air filter element at the proper interval.
Note: Failure to use the correct air filter element may result in severe engine damage. The customer warranty may be void for any damage to the engine if the correct air filter element is not used.
EcoBoost Engines
2.5L Engine (If Equipped)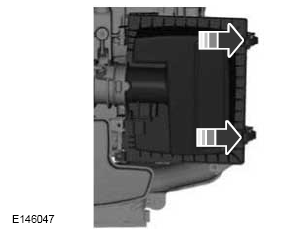 Release the clamps that secure the air filter housing cover.
Carefully lift the air filter housing cover.
Remove the air filter element from the air filter housing.
Wipe any dirt or debris from the air filter housing and cover to make sure no dirt gets in the engine and to make sure you have a good seal.
Install a new air filter element. Be careful not to crimp the filter element edges between the air filter housing and cover. This could cause filter damage and allow unfiltered air to enter the engine if not properly seated.
Install the air filter housing cover.
Engage the clamps to secure the air filter housing cover to the air filter housing.
WARNING: Switch the lamps and the ignition off. Failure to follow this warning could result in serious personal injury. WARNING: Bulbs can become hot...
Your dealer has many quality products available to clean your vehicle and protect its finishes...
Other information:
Check NOTE: Refer to the appropriate Section 303-01 for the specification. NOTE: The crankshaft connecting rod journals must be within specifications to check the connecting rod bearing journal clearance. Remove the connecting rod bearing cap and connecting rod bearing. Position a piece of Plastigage across the bearing surface. NOTE: D..
Item Part Number Description 1 81008100 Pressure relief cap 2 8A0808A080 Degas bottle 3 8A3658A365 Degas bottle-to-engine hose 4 60906090 Cylinder head 5 76107610 Cylinder head tube 6 18C26618C266 Heater hose assembly 7 18B53918B539 Heater core 8 7G0717G071 Transmission warmer inlet hose 9 1..