Ford Fusion: Horn / Horn - System Operation and Component Description. Description and Operation
System Operation
System Diagram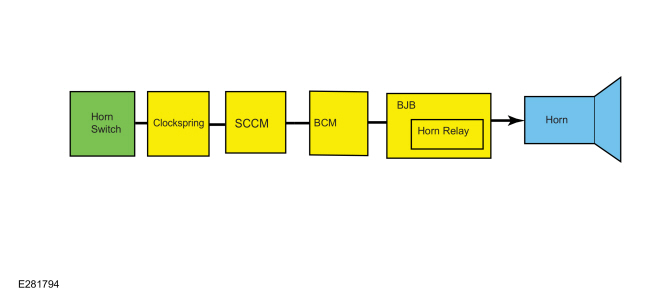 | Item | Description |
| --- | --- |
| 1 | BJB |
| 2 | Horn Relay |
| 3 | Horn Switch |
| 4 | Clockspring |
| 5 | SCCM |
| 6 | BCM |
| 7 | Horn |
Horn Operation
The horn switch consists of 2 sets of contacts separated by springs. The lower set is connected to ground and the upper set is connected to the horn signal circuit. When the driver airbag is pressed, it pushes down on the upper set of contacts, collapsing the springs and allowing the contacts to touch. When the contacts touch, it completes the circuit and provides the ground signal, which is routed through the clockspring to the SCCM and BCM. The BCM grounds the horn relay coil to energize the integrated relay in the BJB. When energized, the horn relay provides voltage to the horn, enabling the horn to sound.
DTC Chart Diagnostics in this manual assume a certain skill level and knowledge of Ford-specific diagnostic practices. REFER to: Diagnostic Methods (100-00 General Information, Description and Operation)...
Other information:
Repair NOTE: Click here to view a video version of the seat heater mat removal and installation. View NOTE: Always install a new heater mat. NOTE: During installation, it is allowable to adhere a new heater mat to any adhesive left behind on the foam...
Removal NOTICE: Use care to not crease the headliner during removal and installation or damage to the headliner can occur. NOTE: Removal steps in this procedure may contain installation details. WARNING: Before beginning any service procedure in this section, refer to Safety Warnings in section 100-00 General Information...