Ford Fusion: Engine Cooling - 1.5L EcoBoost (118kW/160PS) – I4 / Degas Bottle. Removal and Installation
Special Tool(s) / General Equipment
Removal
NOTE: Removal steps in this procedure may contain installation details.
WARNING: Before beginning any service procedure in this section, refer to Safety Warnings in section 100-00 General Information. Failure to follow this instruction may result in serious personal injury.

Refer to: Engine Cooling System Health and Safety Precautions (100-00 General Information, Description and Operation).

Release the cooling system pressure by slowly turning the degas bottle cap between 2 and 3 turns and remove the degas bottle cap.

Clamp the lower expansion tank hose and syphon the engine coolant from the expansion tank.
Use the General Equipment: Hose Clamp(s)
Release the clamp and disconnect the lower coolant hose. Depress the tabs and disconnect the upper coolant hoses.


Release the tab, remove the bolt and the degas bottle.
Torque: 80 lb.in (9 Nm)
Installation
To install, reverse the removal procedure.
Refer to: Specifications (303-03C Engine Cooling - 2.5L Duratec (125kW/170PS), Specifications).

Categories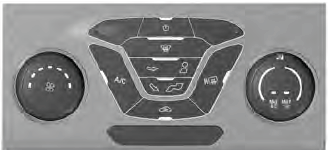 Note: Depending on your vehicle option package, the controls may look different from what you see here.
Copyright © 2023 www.fofusion2.com