Ford Fusion: Parking Aid / Azimuth System Check. General Procedures
Check
NOTE: The object used in this system check can be fabricated using a 9 cm diameter (3 in I.D.) pipe, 100 cm (39 in) in length (available as Polyvinyl Chloride (PVC) pipe, or similar from a hardware or plumbing supply.

NOTE: The following system check should be carried out with the vehicle on a level surface.

NOTE: Actual sensor arrangement may differ from the configuration shown.

Distribute the test objects evenly across the bumper as shown. Refer to the specifications in this section.

Turn the ignition switch to the ON position, engine off.

Apply the parking brake.

Select REVERSE (R) for rear parking aid.

Select DRIVE (D) for front parking aid.

NOTE: The system provides audio warnings only when the vehicle is moving or when the vehicle is stationary and the detected obstacle is less than 12 in (30 cm) away from the bumper.

Using a diagnostic scan tool, monitor the parking aid sensor distance Parameter Identifications (PIDs) to verify the objects are detected when placed in the specified locations (P1, P2, P3, P4 and P5).

Categories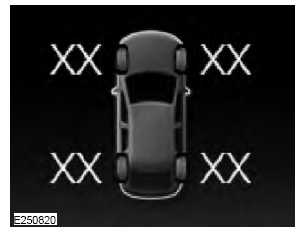 The tire pressure monitoring system measures pressure in your road tires and sends the tire pressure readings to your vehicle. You can view the tire pressure readings through the information display. The low tire pressure warning light will turn on if the tire pressure is significantly low. Once the light is illuminated, your tires are under-inflated and need to be inflated to the manufacturer's recommended tire pressure. Even if the light turns on and a short time later turns off, your tire pressure still needs to be checked.
Copyright © 2023 www.fofusion2.com