Ford Fusion: Battery, Mounting and Cables / Specifications
General Specifications
Vehicles with Auto-Start-Stop System
Item
Specification
Voltage
12 V
Battery amps rating
70 Ah
Cold Cranking Amps (CCA) measured at -18 C (-0.4 F)
760 Cold Cranking Amps (CCA)
Vehicles without Auto-Start-Stop System
Item
Specification
Voltage
12 V
Battery amps rating
56 Ah
Cold Cranking Amps (CCA) measured at -18 C (-0.4 F)
590 Cold Cranking Amps (CCA)
Overview The battery and cable system consists of the following components: Battery Battery tray High current BJB Positive battery cable, including a generator current sensor Negative battery cable including: Battery monitoring sensor (if equipped) Battery current sensor (if equipped) ..
Other information:
Some state and provincial and local governments may have Inspection/Maintenance (I/M) programs to inspect the emission control equipment on your vehicle. Failure to pass this inspection could prevent you from getting a vehicle registration. If the service engine soon indicator is on or the bulb does not work, your vehicle may need service. See On-Board Diagnostics. Your vehicle may not p..
Special Tool(s) / General Equipment Air Conditioning Service Unit Refrigerant Identification Equipment Recovery NOTICE: Use an A/C refrigerant analyzer before recovering any of the vehicle's A/C refrigerant. Failure to do so puts the shop's bulk refrigerant at risk of contamination. If the vehicle's A/C refrigerant is contaminated, refer the customer to the service facility that..
Categories
WARNING: Always ride and drive with your seatback upright and properly fasten your seatbelt. Fit the lap portion of the seatbelt snugly and low across the hips. Position the shoulder portion of the seatbelt across your chest. Pregnant women must follow this practice. See the following figure.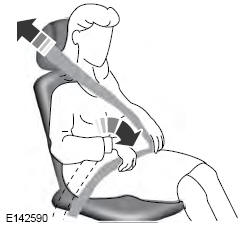 Copyright © 2022 www.fofusion2.com