Ford Fusion: Starting System - 1.5L EcoBoost (118kW/160PS) – I4 / Specifications
General Specifications
| Item | Specification |
| --- | --- |
| Normal engine cranking speed (Average) | 200-300 Revolutions Per Minute (RPM) |
| Starting circuit maximum voltage drop (Engine at normal operating temperature) (Average) | 0.5 volt |
| Starter motor maximum load current draw | 900 amps |
| Starter motor no-load current draw (Average) | 60-80 amps |
| Starter motor normal load current draw (Average) | 130-190 amps |
The starting system controls the cranking of the engine. The starter motor is enabled by the starter relay when the relay is activated by the PCM. The PCM receives inputs from the ignition switch - push button start, automatic transmission, Run/start relay and the BCM before activating the starter relay to initiate cranking of the engine...
Other information:
Principle of Operation WARNING: You are responsible for controlling your vehicle at all times. The system is designed to be an aid and does not relieve you of your responsibility to drive with due care and attention. Failure to follow this instruction could result in the loss of control of your vehicle, personal injury or death...
Special Tool(s) / General Equipment 303-1097Locking Tool, Variable Camshaft Timing Oil Control UnitTKIT-2010B-FLMTKIT-2010B-ROW 303-1556Locking Tool, Timing BeltTKIT-2010B-FLMTKIT-2010B-ROW 303-748Locking Tool, CrankshaftTKIT-2010B-FLMTKIT-2010B-ROW Strap Wrench Oil Drain Equipment Hot Air Gun Hose Clamp Remover/Installer Materials Name Specificatio..
Categories
Choosing the Right Fuel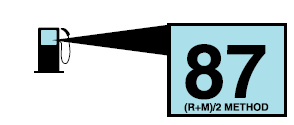 Your vehicle is designed to operate on regular unleaded gasoline with a minimum pump (R+M)/2 octane rating of 87.
Copyright © 2023 www.fofusion2.com