Ford Fusion: Remote Control / Replacing the Battery
Note: Refer to local regulations when disposing of your remote control batteries.
Note: Do not wipe off any grease on the battery terminals or on the back surface of the circuit board.
Note: Replacing the battery does not erase the programmed key from your vehicle. Your remote control should operate normally.
A message appears in the information display when the remote control battery is low.
The remote control uses one coin-type three-volt lithium battery.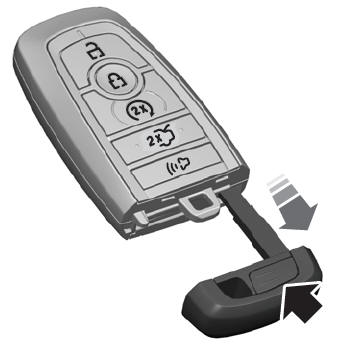 Push the release button and pull the key blade out.

Twist a thin coin under the tab hidden behind the key blade head to remove the battery cover.

Insert a suitable tool, for example a screwdriver, in the position shown and carefully remove the battery.
Install a new battery with the + facing upward.
Reinstall the battery cover and the key blade.
The key cylinder is under a cap on the driver door handle. To remove the cap: Insert the key blade into the slot on the bottom of the handle and apply upward pressure...
Car Finder Press the button twice within three seconds. The horn sounds and the direction indicators flash. We recommend you use this method to locate your vehicle, rather than using the panic alarm...
Other information:
Special Tool(s) / General Equipment 303-1532Installer, Camshaft SealTKIT-2010B-FLMTKIT-2010B-ROW 303-393-02Adapter for 303-393TKIT-2012A-FLTKIT-2012A-ROW 303-393ALocking Tool, FlywheelTKIT-2012A-FLTKIT-2012A-ROW 303-409 (T92C-6700-CH) Remover, Crankshaft SealTKIT-1992-FH/FMH/FLMHTKIT-1993-LMH/MH 303-748Locking Tool, CrankshaftTKIT-2010B-FLMTKIT-2010B-ROW F..
Special Tool(s) / General Equipment 8 mm Drill Bit MIG/MAG Welding Equipment Spot Weld Drill Bit Locking Pliers Materials Name Specification Seam SealerTA-2-B, 3M™ 08308, LORD Fusor® 803DTM - Removal NOTICE: Battery electric vehicle (BEV), hybrid electric vehicle (HEV) and plug-in hybrid electric vehicle (PHEV) contain a high-voltage battery..