Ford Fusion: Remote Control / Car Finder. Sounding the Panic Alarm
Car Finder

Press the button twice within three seconds. The horn sounds and the direction indicators flash. We recommend you use this method to locate your vehicle, rather than using the panic alarm.
Sounding the Panic Alarm
Note: The panic alarm only operates when the ignition is off.

Press the button to sound the panic alarm. Press the button again or switch the ignition on to turn it off.
Note: Refer to local regulations when disposing of your remote control batteries. Note: Do not wipe off any grease on the battery terminals or on the back surface of the circuit board...
Remote Start (If Equipped) WARNING: To avoid exhaust fumes, do not use remote start if your vehicle is parked indoors or in areas that are not well ventilated...
Other information:
Disconnect NOTE: Removing the negative battery ground cable at the LH strut tower will not disable the vehicle's electrical system. NOTE: When the battery is disconnected and connected, some abnormal drive symptoms may occur while the vehicle relearns its adaptive strategy...
Special Tool(s) / General Equipment Resistance Spotwelding Equipment Plasma Cutter Air Body Saw 8 mm Drill Bit MIG/MAG Welding Equipment Spot Weld Drill Bit Materials Name Specification Metal Bonding AdhesiveTA-1, TA-1-B, 3M™ 08115, LORD Fusor® 108B - Seam SealerTA-2-B, 3M™ 08308, LORD Fusor® 803DTM - Motorcraft® Metal S..
Categories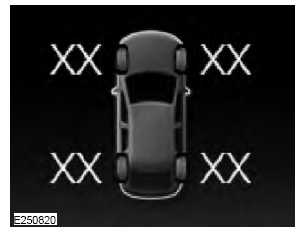 The tire pressure monitoring system measures pressure in your road tires and sends the tire pressure readings to your vehicle. You can view the tire pressure readings through the information display. The low tire pressure warning light will turn on if the tire pressure is significantly low. Once the light is illuminated, your tires are under-inflated and need to be inflated to the manufacturer's recommended tire pressure. Even if the light turns on and a short time later turns off, your tire pressure still needs to be checked.