Ford Fusion: Seatbelt Systems / Seatbelt Twisted at the Seatbelt Guide. General Procedures
Adjustment
NOTE: Typical D-ring shown, others similar.
If required, remove the necessary trim panel(s).

Fold the seatbelt as indicated.


Feed the folded portion of the seatbelt into the D-ring.


Pull the seatbelt through the D-ring to remove the twist in the seatbelt.

Categories
WARNING: Do not adjust the steering wheel when your vehicle is moving.
Note: Make sure that you are sitting in the correct position.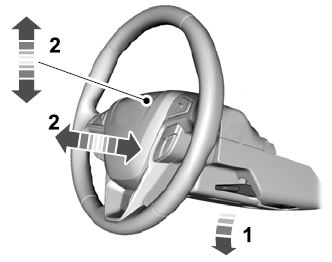 Unlock the steering column. Adjust the steering wheel to the desired position.
Copyright © 2023 www.fofusion2.com