Ford Fusion: Lane Keeping System / Lane Keeping System - Overview. Description and Operation
Overview
The Lane Keeping System (LKS) has 2 functions, lane keeping aid and lane keeping alert. The Lane Keeping System (LKS) utilizes the camera located in the IPMA to detect and track the road lane markings. The lane keeping alert detects unintentional drifting toward the outside of the lane and alerts the driver through steering wheel vibrations and a visual alert in the IPC message center. The lane keeping aid assists the driver by automatically providing steering torque to help the driver keep the vehicle in the lane.
System Operation Lane Keeping Alert and Lane Keeping Aid Item Description 1 IPMA 2 LH steering column multifunction switch 3 Lane keeping system switch 4 GWM 5 RCM 6 SCCM 7 PCM 8 IPC 9 BCM 10 PSCM 11 CCM 12 with adaptive cruise control 13 ABS m..
Other information:
Special Tool(s) / General Equipment 205-907Handle, 32 DriverTKIT-2008DH-FLM 307-256 (T92P-77000-FH) Installer, Differential Fluid SealTKIT-1992-FLMH/LMH Puller Removal Remove the RH halfshaft. Refer to: Front Halfshaft RH (205-04 Front Drive Halfshafts, Removal and Installation). Using the puller, remove and discard the intermediate shaft seal..
Special Tool(s) / General Equipment Resistance Spotwelding Equipment 8 mm Drill Bit MIG/MAG Welding Equipment Spot Weld Drill Bit Locking Pliers Removal NOTICE: Battery electric vehicle (BEV), hybrid electric vehicle (HEV) and plug-in hybrid electric vehicle (PHEV) contain a high-voltage battery. Before cutting or welding near the high-voltage battery it must ..
Categories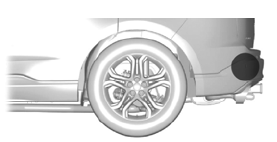 The sensors are behind the rear bumper on both sides of your vehicle.
Copyright © 2023 www.fofusion2.com