Ford Fusion: Electronic Engine Controls - 1.5L EcoBoost (118kW/160PS) – I4 / Engine Coolant Temperature (ECT) Sensor. Removal and Installation
Materials
Name
Specification
Motorcraft® Orange Prediluted Antifreeze/Coolant
VC-3DIL-B
WSS-M97B44-D2

Removal
NOTE: Removal steps in this procedure may contain installation details.
NOTE: When releasing the cooling system pressure, cover the coolant expansion tank cap with a thick cloth.

Loosen the coolant expansion tank cap. Loosen: 2 turn(s)
Tighten the coolant expansion tank cap.
Torque: 2 turn(s)
Remove the air cleaner outlet pipe.
Refer to: Air Cleaner Outlet Pipe (303-12A Intake Air Distribution and Filtering - 1.5L EcoBoost (118kW/160PS) – I4, Removal and Installation).

NOTE: Have the new component ready to install to reduce coolant loss.

NOTE: Be prepared to capture escaping fluid with a shop towel.

Disconnect the ECT electrical connector.


Release the retaining clip.

Installation
To install, reverse the removal procedure.

Check the coolant level in the degas bottle and add coolant as necessary.
Material: Motorcraft® Orange Prediluted Antifreeze/Coolant / VC-3DIL-B (WSS-M97B44-D2)
Categories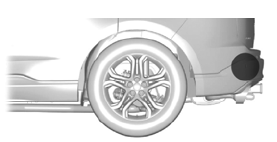 The sensors are behind the rear bumper on both sides of your vehicle.
Copyright © 2023 www.fofusion2.com