Ford Fusion: Automatic Transmission - 6-Speed Automatic Transmission – 6F35 / Differential. Description and Operation
Differential Exploded View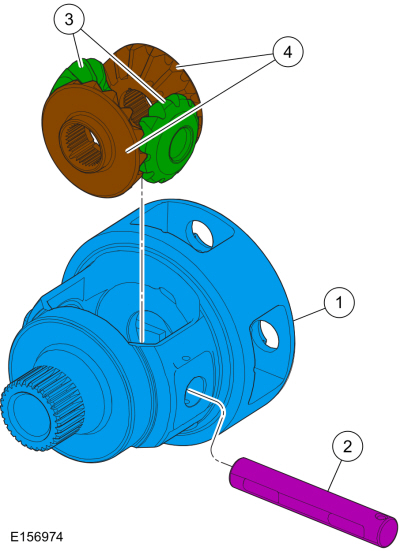 | | |
| --- | --- |
| Item | Description |
| 1 | Differential housing |
| 2 | Pinion shaft |
| 3 | Pinion gears |
| 4 | Side gears |
Differential Cutaway View and External Sealing
| | |
| --- | --- |
| Item | Description |
| 1 | LH halfshaft seal |
| 2 | RH halfshaft seal FWD (front wheel drive) |
| 3 | RH halfshaft seal AWD (All-wheel drive) |
| 4 | Power Transfer Unit (PTU) input shaft sealing surface |
Differential
The differential allows the halfshafts and wheels to rotate at different speeds during cornering and transfers power to the Power Transfer Unit (PTU) for AWD vehicles.
The differential assembly consists of the following components:
Differential case (part of the final drive carrier)
Two pinion gears supported by a pinion shaft
Two side gears supported by the differential case and halfshafts
When driving in a straight line, both front wheels rotate at relatively the same speed. This means both side gears are rotating at the same speed, as well, while both pinion gears revolve (but do not rotate) with the side gears. During cornering, the wheel on the outside of the turn is forced to rotate faster than the wheel on the inside of the turn. Since the side gears must now rotate at different speeds, the pinion gears rotate on the pinion shaft allowing the drive axles to rotate at different speeds while still transferring output torque.
Transmission Fluid Auxiliary Pump Components Item Description 1 Transmission assembly 2 Transmission fluid auxiliary pump supply tube assembly 3 Check ball (part of the transmission fluid auxiliary pump supply tube) 4 Transmission fluid auxiliary pump-to-transmission case gasket 5 Tran..
Other information:
Removal Refer to: Front Door Glass Top Run (501-11 Glass, Frames and Mechanisms, Removal and Installation). Remove the retainers and front door fixed window glass. NOTE: This step is only necessary when installing a new component. Using a flat bladed screwdriver, gently compress the snap tabs from top to bottom, while applying outward ..
1.5L EcoBoost Item Description 1 Ignition coil-on-plug(s) 2 Spark plug(s) ..