Ford Fusion: Capacities and Specifications / Bulb Specification Chart
Replacement bulbs are specified in the chart below. Headlamp bulbs must be marked with an authorized "D.O.T." for North America to make sure they have the proper lamp performance, light brightness, light pattern, and safe visibility. The correct bulbs will not damage the lamp assembly or void the lamp assembly warranty and will provide quality bulb illumination time.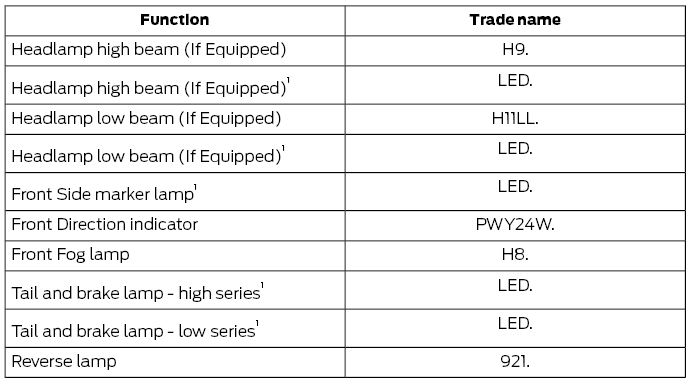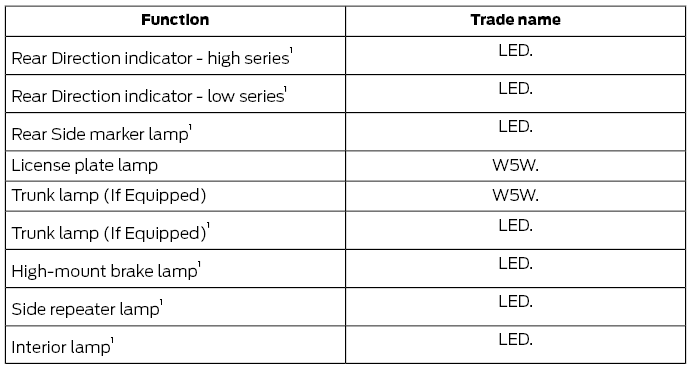 1 To replace these bulbs, see your authorized dealer.
To replace all instrument panel bulbs, see your authorized dealer.
Use oil and fluid that meets the defined specification and viscosity grade. If you do not use oil and fluid that meets the defined specification and viscosity grade, it could result in: Component damage that your vehicle warranty does not cover...
Connected Vehicle Requirements. Connected service and related feature functionality requires a compatible vehicle network. Some remote features require a subscription...
Other information:
The vehicle identification number is located on the left-hand side of the instrument panel. Please note that in the graphic, XXXX is representative of your vehicle identification number. The Vehicle Identification Number contains the following information: World manufacturer identifier Brake system, Gross Vehicle Weight Rating, Restraint Devices and their locations Make, vehicle lin..
Lubricants, Fluids, Sealers and Adhesives Name Specifications Motorcraft® SAE 80W-90 Premium Rear Axle Lubricant XY-80W90-QL (US); CXY-80W90-1L (Canada) WSP-M2C197-A Motorcraft® Silicone Gasket and Sealant TA-30 WSE-M4G323-A4 Capacities Item Fill Capacity Level ..
Categories
WARNING: Do not adjust the steering wheel when your vehicle is moving.
Note: Make sure that you are sitting in the correct position.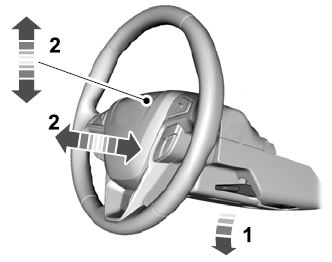 Unlock the steering column. Adjust the steering wheel to the desired position.