Ford Fusion: Parking Aid / Specifications
General Specifications - Rear Parking Aid
| Item | Specification |
| --- | --- |
| Test object position 1 (P1) and position 5 (P5), distance from rear bumper | 30 cm (12 in) |
| Test object position 2 (P2) and position 4 (P4), distance from rear bumper | 91 cm (36 in) |
| Test object position 3 (P3), distance from rear bumper | 152 cm (60 in) |
General Specifications - Front Parking Aid
| Item | Specification |
| --- | --- |
| Test object position 1 (P1) and position 5 (P5), distance from front bumper | 20 cm (8 in) |
| Test object position 2 (P2) and position 4 (P4), distance from front bumper | 36 cm (14 in) |
| Test object position 3 (P3), distance from front bumper | 70 cm (27 in) |
Component Location, Parking Aid - Audible Item Description 1 Front parking aid sensors 2 Parking aid switch (if equipped) 3 Rear speakers (part of audio system) 4 Rear parking aid sensors 5 Front speakers (part of audio system) 6 PAM (integral to the BCM Component Location, Parking Aid - Video Item Description 1 ..
Other information:
The power door lock control is on the driver and front passenger door panels. Unlock. Lock. Door Lock Indicator An LED on the door window trim illuminates when you lock the door. It remains illuminated for up to five minutes after you switch the ignition off. Door Lock Switch Inhibitor When you electronically lock your vehicle, the power door lock switch no longer operates after 20 seco..
Special Tool(s) / General Equipment Resistance Spotwelding Equipment 8 mm Drill Bit MIG/MAG Welding Equipment Spot Weld Drill Bit Locking Pliers Materials Name Specification Seam SealerTA-2-B, 3M™ 08308, LORD Fusor® 803DTM - Flexible Foam Repair3M™ 08463, LORD Fusor® 121 - Removal Restore vehicle to pre-accident dimens..
Categories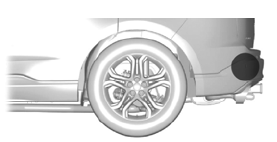 The sensors are behind the rear bumper on both sides of your vehicle.
Copyright © 2022 www.fofusion2.com