Ford Fusion: Fuel Charging and Controls - Turbocharger - 1.5L EcoBoost (118kW/160PS) – I4 / Turbocharger - Overview. Description and Operation
Overview
NOTICE: Whenever turbocharger air intake system components are removed, always cover open ports to protect from debris. It is important that no foreign material enter the system. The turbocharger compressor vanes are susceptible to damage from even small particles. All components should be inspected and cleaned, if necessary, prior to installation or reassembly.
The turbocharger is an exhaust-driven centrifugal air compressor. Its purpose is to increase power output by supplying compressed air to the engine. The internal components are cooled by engine oil, engine coolant and air. Engine oil and coolant are circulated through the center housing which acts as a heat barrier between the "hot" turbine and the "cold" compressor. Bearings are sleeve type and lubricated by engine oil. Oil is circulated to the turbocharger center housing and returned to the sump through an oil drain in the center housing.
Expanding exhaust gases drive the turbine shaft assembly to speeds up to 200,000 Revolutions Per Minute (RPM). Filtered air entering the compressor side of the turbocharger is compressed and delivered through a CAC. The very hot compressed air is cooled by the CAC, and then continues on to fill the intake manifold at a higher pressure than atmospheric pressure. Because considerably more air is forced into the intake manifold, the results are increased power, fuel efficiency and the ability to maintain power at higher altitudes.
Categories
WARNING: Do not adjust the steering wheel when your vehicle is moving.
Note: Make sure that you are sitting in the correct position.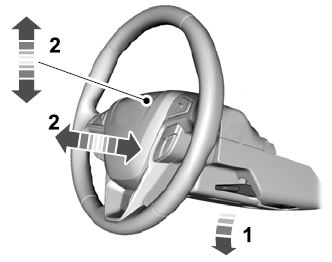 Unlock the steering column. Adjust the steering wheel to the desired position.