Ford Fusion: Automatic Transmission - 6-Speed Automatic Transmission – 6F35 / Low One-Way Clutch Assembly. Description and Operation
Low One-Way Clutch Exploded View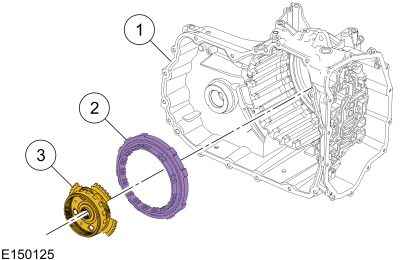 | | |
| --- | --- |
| Item | Description |
| 1 | Transmission case |
| 2 | Low One-Way Clutch |
| 3 | Rear planetary carrier |
Low One-Way Clutch Cutaway View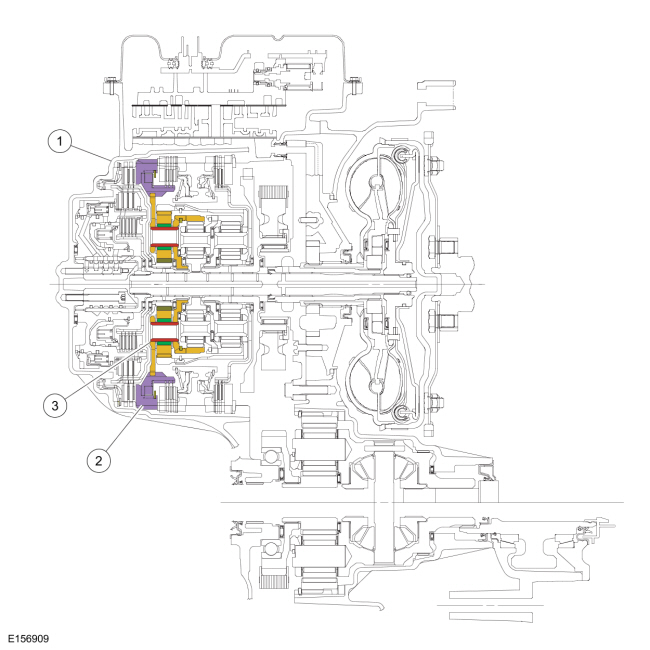 Low One way Clutch
The low One-Way Clutch (OWC) is a brake clutch that holds the rear planetary carrier in one direction and allows it to freewheel in the opposite direction which eliminates engine braking in 1st gear when the transmission is in DRIVE. The low One-Way Clutch (OWC) is also the pressure plate for the intermediate (2, 6) clutch.
Item Description 1 Transmission internal wiring harness frame 2 Main control valve body 3 Check balls (3 required) 4 Solenoid damper SSA 5 Solenoid body-to-valve body separator plate 6 Damper pistons and springs (3 required) 7 Elastomeric damper..
Other information:
Some state and provincial and local governments may have Inspection/Maintenance (I/M) programs to inspect the emission control equipment on your vehicle. Failure to pass this inspection could prevent you from getting a vehicle registration. If the service engine soon indicator is on or the bulb does not work, your vehicle may need service. See On-Board Diagnostics. Your vehicle may not p..
You can temporarily stow the full-size road wheel in the spare tire compartment. Find the flat tire retainer strap tucked inside the jack channel. Locate the jack bolt-down bracket. Push the retainer strap through the jack bolt-down bracket. Put the jack and lug wrench away. Make sure you fasten the jack so it does not rattle when you drive. Stow the flat tire on the floor in the cargo a..