Ford Fusion: Automatic Transmission - 6-Speed Automatic Transmission – 6F35 / Low One-Way Clutch Assembly. Description and Operation
Low One-Way Clutch Exploded View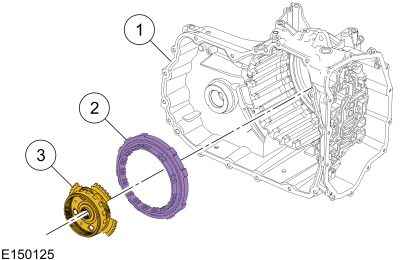 | | |
| --- | --- |
| Item | Description |
| 1 | Transmission case |
| 2 | Low One-Way Clutch |
| 3 | Rear planetary carrier |
Low One-Way Clutch Cutaway View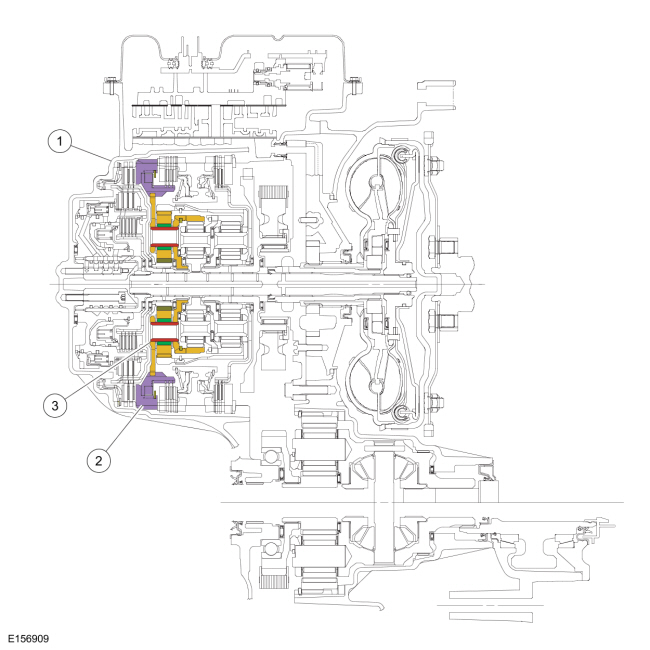 Low One way Clutch
The low One-Way Clutch (OWC) is a brake clutch that holds the rear planetary carrier in one direction and allows it to freewheel in the opposite direction which eliminates engine braking in 1st gear when the transmission is in DRIVE. The low One-Way Clutch (OWC) is also the pressure plate for the intermediate (2, 6) clutch.
Item Description 1 Transmission internal wiring harness frame 2 Main control valve body 3 Check balls (3 required) 4 Solenoid damper SSA 5 Solenoid body-to-valve body separator plate 6 Damper pistons and springs (3 required) 7 Elastomeric damper..
Other information:
Special Tool(s) / General Equipment Feeler Gauge Cleaning Clean the exhaust manifold using a suitable solvent. Use a plastic scraping tool to clean the gasket sealing surfaces. Inspection NOTE: New exhaust manifold gaskets, studs, nuts and/or bolts must be installed when an exhaust manifold is serviced. NOTE: Use a Straightedge that is calibrated by the ..
General Hints Note: Prolonged use of recirculated air may cause the windows to fog up. Note: You may feel a small amount of air from the footwell air vents regardless of the air distribution setting. Note: To reduce humidity build-up inside your vehicle, do not drive with the system switched off or with recirculated air always switched on. Note: Do not place objects under the front seats as..