Ford Fusion: Automatic Transmission - 6-Speed Automatic Transmission – 6F35 / Low One-Way Clutch Assembly. Description and Operation
Low One-Way Clutch Exploded View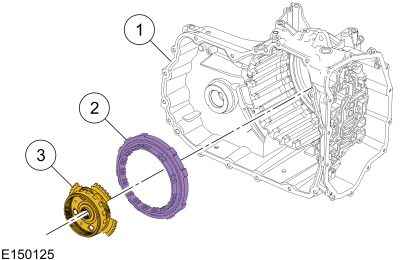 | | |
| --- | --- |
| Item | Description |
| 1 | Transmission case |
| 2 | Low One-Way Clutch |
| 3 | Rear planetary carrier |
Low One-Way Clutch Cutaway View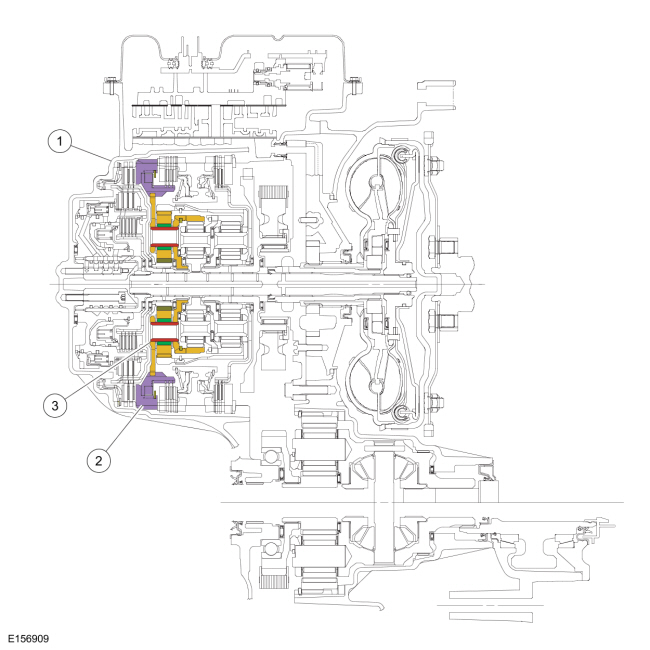 Low One way Clutch
The low One-Way Clutch (OWC) is a brake clutch that holds the rear planetary carrier in one direction and allows it to freewheel in the opposite direction which eliminates engine braking in 1st gear when the transmission is in DRIVE. The low One-Way Clutch (OWC) is also the pressure plate for the intermediate (2, 6) clutch.
Item Description 1 Transmission internal wiring harness frame 2 Main control valve body 3 Check balls (3 required) 4 Solenoid damper SSA 5 Solenoid body-to-valve body separator plate 6 Damper pistons and springs (3 required) 7 Elastomeric damper..
Other information:
Reduced Engine Performance WARNING: If you continue to drive your vehicle when the engine is overheating, the engine could stop without warning. Failure to follow this instruction could result in the loss of control of your vehicle. If the engine coolant temperature gauge needle moves to the upper limit position, the engine is overheating. You must only drive your vehicle for a short dista..
When you shift into reverse (R), with your hands off the steering wheel and nothing obstructing its movement, your vehicle steers itself into the space. The system displays instructions to move your vehicle backward and forward in the space. Note: If the vehicle speed exceeds approximately 6 mph (9 km/h), you interrupt the maneuver, or the system switches off, you must take full control of..