Ford Fusion: Transmission Cooling - 6-Speed Automatic Transmission – 6F35 / Transmission Cooling - Component Location. Description and Operation
Transmission Cooling - 1.5L EcoBoost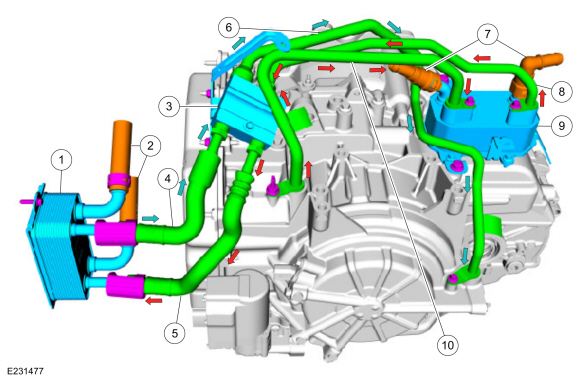 | Item | Description |
| --- | --- |
| 1 | Transmission fluid cooler |
| 2 | Transmission fluid cooler coolant hoses |
| 3 | Cooler bypass valve |
| 4 | Transmission fluid cooler-to-cooler bypass valve tube |
| 5 | Cooler bypass valve-to-transmission fluid cooler tube |
| 6 | Cooler bypass valve-to-transmission tube |
| 7 | Transmission fluid warmer coolant quick connect couplings |
| 8 | Transmission fluid warmer-to-cooler bypass valve tube |
| 9 | Transmission fluid warmer |
| 10 | Transmission-to-transmission fluid warmer tube |
Transmission Cooling - 2.0L EcoBoost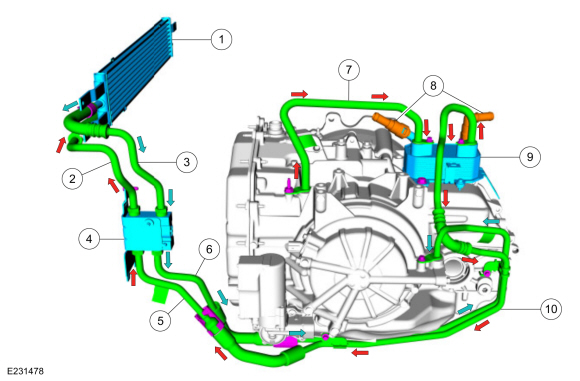 | Item | Description |
| --- | --- |
| 1 | Transmission fluid cooler |
| 2 | Cooler bypass valve-to-transmission fluid cooler tube |
| 3 | Transmission fluid cooler-to-cooler bypass valve tube |
| 4 | Cooler bypass valve |
| 5 | Transmission fluid cooler tube assembly-to-cooler bypass valve tube |
| 6 | Cooler bypass valve-to-transmission fluid cooler tube assembly tube |
| 7 | Transmission-to-transmission fluid warmer tube |
| 8 | Transmission fluid warmer coolant quick connect couplings |
| 9 | Transmission fluid warmer |
| 10 | Transmission fluid cooler tube assembly |
Transmission Cooling - 2.5L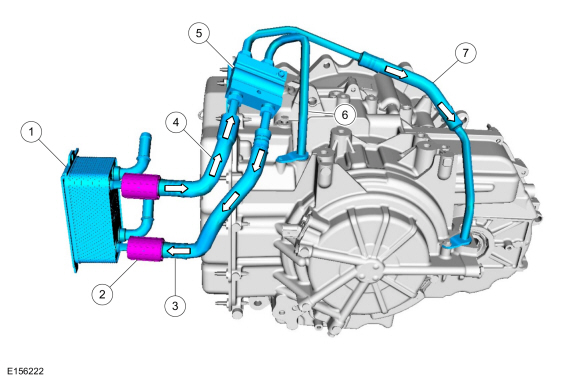 | Item | Description |
| --- | --- |
| 1 | Transmission fluid cooler |
| 2 | Secondary latches |
| 3 | Transmission fluid cooler inlet tube |
| 4 | Transmission fluid cooler outlet tube |
| 5 | Cooler bypass valve |
| 6 | Transmission mounted fluid cooler inlet tube |
| 7 | Transmission mounted fluid cooler outlet tube |
Transmission Cooling - 1.5L EcoBoost This vehicle is equipped with an external transmission fluid cooler. The transmission fluid cooler is an oil-to-coolant fluid cooler which is mounted on the left side of radiator...
Other information:
Special Tool(s) / General Equipment Hot Air Gun 8 mm Drill Bit MIG/MAG Welding Equipment Spot Weld Drill Bit Locking Pliers Materials Name Specification Metal Bonding AdhesiveTA-1, TA-1-B, 3M™ 08115, LORD Fusor® 108B - Seam SealerTA-2-B, 3M™ 08308, LORD Fusor® 803DTM - Removal WARNING: Before beginning any se..
Special Tool(s) / General Equipment Hose Clamp Remover/Installer Removal NOTICE: During the removal or installation of components, cap, tape or otherwise appropriately protect all openings and tubes/fittings to prevent the ingress of dirt or other contamination. Remove caps, tape and other protective materials prior to installation. NOTE: Removal steps in this procedure may..