Ford Fusion: Fuel Charging and Controls - Turbocharger - 1.5L EcoBoost (118kW/160PS) – I4 / Specifications
Torque Specifications
Turbocharger bypass valve bolts : 53 lb.in (6 Nm)
Turbocharger wastegate regulating valve solenoid nuts : 62 lb.in (7 Nm)
1.5L EcoBoost Turbocharger Components Item Description 1 Turbocharger bypass valve 2 Wastegate control valve solenoid 3 Turbocharger coolant tubes 4 Turbocharger oil return tube 5 Turbocharger 6 Turbocharger oil supply tube 1...
Other information:
Plastic Components The following illustration(s) are not all-inclusive of trim levels available. The actual trim level of the vehicle will determine the viability of carrying out a plastics repair. Typically components with moulded-in color or a textured finish are not considered repairable components...
Adjustment NOTE: Typical D-ring shown, others similar. If required, remove the necessary trim panel(s). Fold the seatbelt as indicated. Feed the folded portion of the seatbelt into the D-ring. Pull the seatbelt through the D-ring to remove the twist in the seatbelt...
Categories
WARNING: Always ride and drive with your seatback upright and properly fasten your seatbelt. Fit the lap portion of the seatbelt snugly and low across the hips. Position the shoulder portion of the seatbelt across your chest. Pregnant women must follow this practice. See the following figure.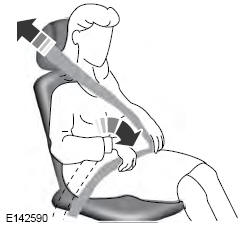 Copyright © 2022 www.fofusion2.com