Ford Fusion: Suspension System - General Information / Rear Toe Adjustment. General Procedures
Special Tool(s) / General Equipment
Adjustment
NOTICE: Do not use any tools or equipment to move the wheel and tire assembly or suspension components while checking for relative movement. Suspension damage may occur. The use of tools or equipment will also create relative movement that may not exist when using hand force. Relative movement must be measured using hand force only.
Using alignment equipment and the manufacturer's instructions, check the rear toe setting on both sides.
Use the General Equipment: Wheel Alignment System
Turn the component Counterclockwise (CCW) through 2 complete turns.
Torque: 129 lb.ft (175 Nm)
NOTE: If equipped with Lane Departure Warning (LDW) System, camera alignment is required for the lane keeping alert and lane keeping aid to function correctly.

Connect the scan tool and perform the IPMA camera alignment procedure. Follow the scan tool directions.

Categories
Choosing the Right Fuel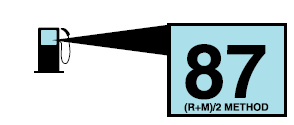 Your vehicle is designed to operate on regular unleaded gasoline with a minimum pump (R+M)/2 octane rating of 87.
Copyright © 2023 www.fofusion2.com