Ford Fusion: Suspension System - General Information / Front Toe Adjustment. General Procedures
Special Tool(s) / General Equipment
Adjustment
NOTE: Make sure that the vehicle is standing on a level surface.
Steering wheel in straight ahead position.

Using alignment equipment and the manufacturer's instructions, check front toe setting on both sides.
Use the General Equipment: Wheel Alignment System
On both sides.


On both sides.
Torque: 52 lb.ft (70 Nm)

NOTE: Make sure that the boot is correctly located.

Rotate the inner tie-rods an equal amount in either a clockwise or a counterclockwise direction to adjust the toe setting on both sides.

NOTE: If equipped with Lane Departure Warning (LDW) System, camera alignment is required for the lane keeping alert and lane keeping aid to function correctly.

Connect the scan tool and perform the IPMA camera alignment procedure. Follow the scan tool directions.

Categories
WARNING: Always ride and drive with your seatback upright and properly fasten your seatbelt. Fit the lap portion of the seatbelt snugly and low across the hips. Position the shoulder portion of the seatbelt across your chest. Pregnant women must follow this practice. See the following figure.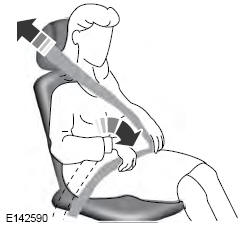 Copyright © 2023 www.fofusion2.com