Ford Fusion: Automatic Transmission - 6-Speed Automatic Transmission – 6F35 / Pump Assembly. Description and Operation
Fluid Pump and Transmission Fluid Filter Components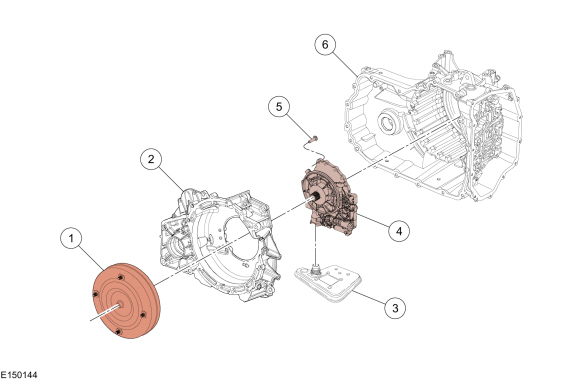 | | |
| --- | --- |
| Item | Description |
| 1 | Torque converter |
| 2 | Torque converter housing |
| 3 | Transmission fluid filter |
| 4 | Pump assembly |
| 5 | Pump-to-torque converter housing bolt |
| 6 | Transmission case |
Mechanical Operation
The transmission fluid in the sump area at the bottom of the transmission case flows through a transmission fluid filter to the pump assembly. The pump is bolted to the torque converter housing and is driven by the torque converter hub.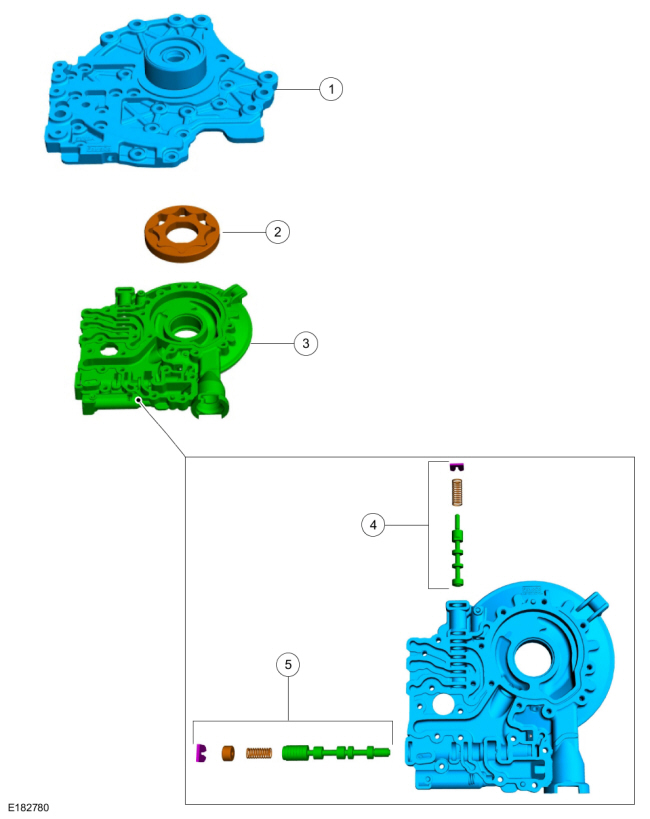 | | |
| --- | --- |
| Item | Description |
| 1 | Stator support |
| 2 | Pump gears |
| 3 | Pump housing |
| 4 | TCC control valve assembly |
| 5 | Main pressure regulator valve assembly |
Mechanical Operation
NOTE: The listed components are only serviced as a pump assembly.
The pump assembly contains the main pressure regulator valve assembly, the TCC control valve assembly, the stator support and the pump gears.
Input Shaft Exploded View Item Description 1 Direct (3, 5, R)/overdrive (4, 5, 6) clutch hub 2 Input shaft 3 Direct (3, 5, R) clutch 4 Overdrive (4, 5, 6) clutch 5 Center planetary sun gear Input Shaft Cutaway View Input Shaft The input shaft is part of the di..
Other information:
The AWD system consists of the following: Power transfer unit (PTU) Front and rear halfshafts Rear axle and driveshaft AWD relay module Rear axle with coupling device Torque from the engine is transferred through the transmission to the Power Transfer Unit (PTU). This torque is transferred from the driveshaft to the rear axle, which drives the rear halfshafts. Th..
Principle of Operation WARNING: Vehicle modifications involving braking system, aftermarket roof racks, suspension, steering system, tire construction and wheel and tire size may change the handling characteristics of your vehicle and may adversely affect the performance of the electronic stability control system. In addition, installing any stereo loudspeakers may interfere with and adve..