Ford Fusion: Automatic Transmission - 6-Speed Automatic Transmission – 6F35 / Pump Assembly. Description and Operation
Fluid Pump and Transmission Fluid Filter Components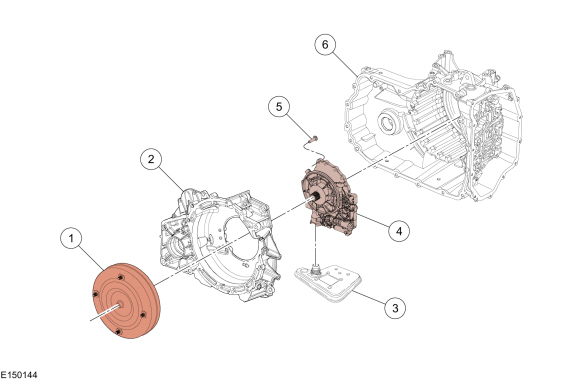 | | |
| --- | --- |
| Item | Description |
| 1 | Torque converter |
| 2 | Torque converter housing |
| 3 | Transmission fluid filter |
| 4 | Pump assembly |
| 5 | Pump-to-torque converter housing bolt |
| 6 | Transmission case |
Mechanical Operation
The transmission fluid in the sump area at the bottom of the transmission case flows through a transmission fluid filter to the pump assembly. The pump is bolted to the torque converter housing and is driven by the torque converter hub.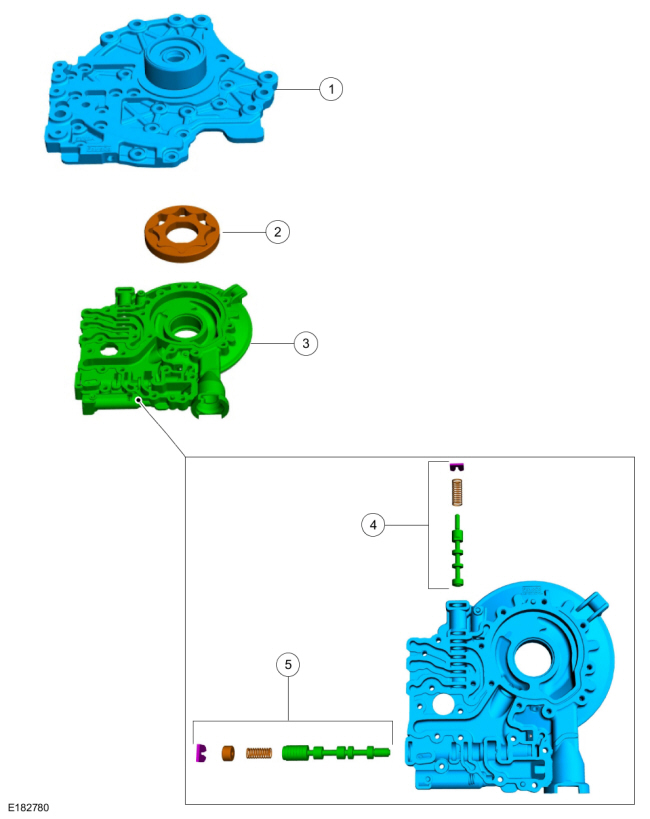 | | |
| --- | --- |
| Item | Description |
| 1 | Stator support |
| 2 | Pump gears |
| 3 | Pump housing |
| 4 | TCC control valve assembly |
| 5 | Main pressure regulator valve assembly |
Mechanical Operation
NOTE: The listed components are only serviced as a pump assembly.
The pump assembly contains the main pressure regulator valve assembly, the TCC control valve assembly, the stator support and the pump gears.
Input Shaft Exploded View Item Description 1 Direct (3, 5, R)/overdrive (4, 5, 6) clutch hub 2 Input shaft 3 Direct (3, 5, R) clutch 4 Overdrive (4, 5, 6) clutch 5 Center planetary sun gear Input Shaft Cutaway View Input Shaft The input shaft is part of the di..
Other information:
Overview The power lock/unlock feature locks or unlocks the doors upon a customer request from a door lock control switch, the keyless entry keypad (if equipped), the passive entry system (if equipped) or a RKE transmitter. The doors can also be locked by using a key in the driver door lock cylinder. If equipped, the passive entry feature locks/unlocks the doors or releases the luggage comp..
WARNING: Service of Compressed Natural Gas (CNG) or Liquefied Petroleum Gas (LPG) vehicle systems is restricted to qualified personnel and authorized workshops. The required qualifications vary by region. Always observe local laws and legislative directives regarding CNG or LPG vehicle service. Failure to follow this instruction may result in serious personal injury or death. &n..