Ford Fusion: Fuel System - General Information - 1.5L EcoBoost (118kW/160PS) – I4 / Fuel System Pressure Release. General Procedures
Pressure release
WARNING: Before beginning any service procedure in this section, refer to Safety Warnings in section 100-00 General Information. Failure to follow this instruction may result in serious personal injury.

Refer to: Gasoline and Gasoline-Ethanol Fuel Systems Health and Safety Precautions (100-00 General Information, Description and Operation).

Remove the left lower C-Pillar trim.
Refer to: C-Pillar Lower Trim Panel (501-05 Interior Trim and Ornamentation, Removal and Installation).

Disconnect the FPDM electrical connector.

NOTE: On vehicles equipped with Gasoline Turbocharged Direct Injection (GTDI), running the engine with the FPDM disconnected will remove most of the pressure from both the low and high pressure sides of the system.

Start the engine and allow it to idle until the engine stalls.

Turn the ignition switch to the off position.

When the fuel system service is complete, reconnect the FPDM electrical connector.

Cycle the ignition key and wait 3 seconds to pressurize the fuel system. Check for leaks before starting the engine.

Categories
WARNING: Do not adjust the steering wheel when your vehicle is moving.
Note: Make sure that you are sitting in the correct position.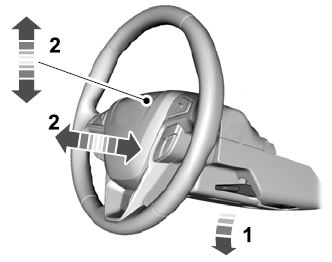 Unlock the steering column. Adjust the steering wheel to the desired position.
Copyright © 2023 www.fofusion2.com