Ford Fusion: Electronic Engine Controls - 1.5L EcoBoost (118kW/160PS) – I4 / Electronic Engine Controls - Component Location. Description and Operation
Electronic Engine Controls - LH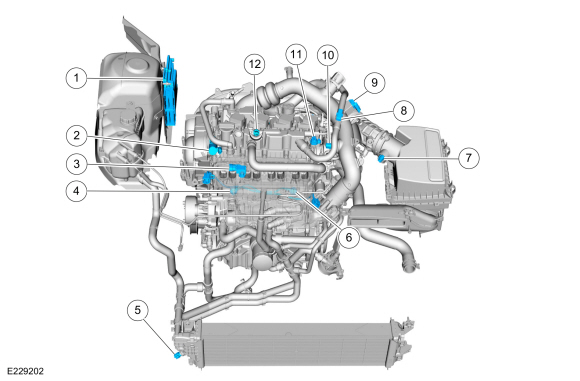 | Item | Description |
| --- | --- |
| 1 | PCM |
| 2 | VCT oil control solenoid intake |
| 3 | MAPT sensor |
| 4 | KS front |
| 5 | CAC coolant temperature sensor |
| 6 | KS rear |
| 7 | IAT sensor |
| 8 | Crankcase pressure sensor |
| 9 | Turbocharger boost pressure sensor |
| 10 | IAT2 |
| 11 | CMP sensor LH intake |
| 12 | FRP sensor |
Electronic Engine Controls - RH
| Item | Description |
| --- | --- |
| 1 | Turbocharger bypass valve solenoid |
| 2 | CMP sensor RH exhaust |
| 3 | ECT sensor |
| 4 | HO2S |
| 5 | Catalyst monitor sensor |
| 6 | CHT sensor |
| 7 | CKP sensor |
| 8 | Wastegate actuator |
| 9 | VCT oil control solenoid exhaust |
Fuel Pressure Sensor
| Item | Description |
| --- | --- |
| 1 | Fuel pressure sensor |
Turbocharger Bypass Valve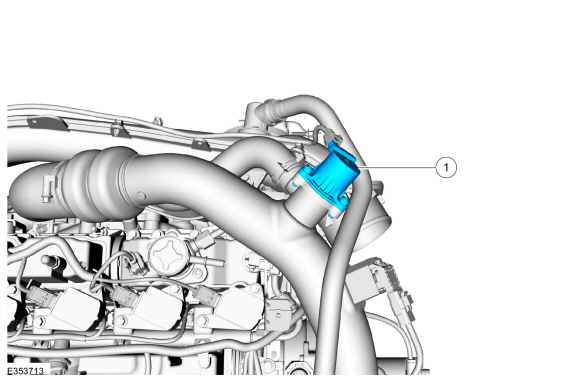 | Item | Description |
| --- | --- |
| 1 | Turbocharger Bypass Valve |
Overview The EEC system provides optimum control of the engine through the enhanced capability of the powertrain control module (PCM). The EEC system also has an on board diagnostic (OBD) monitoring system with features and functions to meet federal regulations on exhaust emissions...
System Operation Refer to the Powertrain Control/Emissions Diagnosis (PC/ED) Manual Section 1 Description and Operation. ..
Other information:
Inspection NOTE: Dropped spark plugs should always be discarded. Unfired An unfired spark plug should appear very clean with a pure nickel finish to the threads and ground strap. The center electrode ceramic insulator surface is often a matte or dull finish and pure white in color. The external primary insulator is often a polished white ceramic with appropriate stamping ..
Principle of Operation WARNING: Vehicle modifications involving braking system, aftermarket roof racks, suspension, steering system, tire construction and wheel and tire size may change the handling characteristics of your vehicle and may adversely affect the performance of the electronic stability control system. In addition, installing any stereo loudspeakers may interfere with and adve..
Categories
The system detects available parallel parking spaces and steers your vehicle into the space. You control the accelerator, gearshift and brakes. The system visually and audibly guides you into a parallel parking space.

Press the button once to search for a parking space.