Ford Fusion: Electronic Engine Controls - 1.5L EcoBoost (118kW/160PS) – I4 / Electronic Engine Controls - Component Location. Description and Operation
Electronic Engine Controls - LH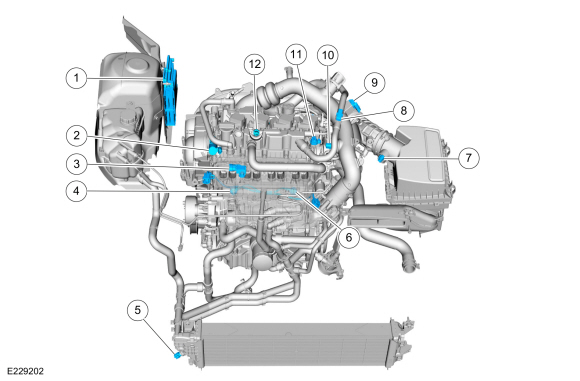 | Item | Description |
| --- | --- |
| 1 | PCM |
| 2 | VCT oil control solenoid intake |
| 3 | MAPT sensor |
| 4 | KS front |
| 5 | CAC coolant temperature sensor |
| 6 | KS rear |
| 7 | IAT sensor |
| 8 | Crankcase pressure sensor |
| 9 | Turbocharger boost pressure sensor |
| 10 | IAT2 |
| 11 | CMP sensor LH intake |
| 12 | FRP sensor |
Electronic Engine Controls - RH
| Item | Description |
| --- | --- |
| 1 | Turbocharger bypass valve solenoid |
| 2 | CMP sensor RH exhaust |
| 3 | ECT sensor |
| 4 | HO2S |
| 5 | Catalyst monitor sensor |
| 6 | CHT sensor |
| 7 | CKP sensor |
| 8 | Wastegate actuator |
| 9 | VCT oil control solenoid exhaust |
Fuel Pressure Sensor
| Item | Description |
| --- | --- |
| 1 | Fuel pressure sensor |
Turbocharger Bypass Valve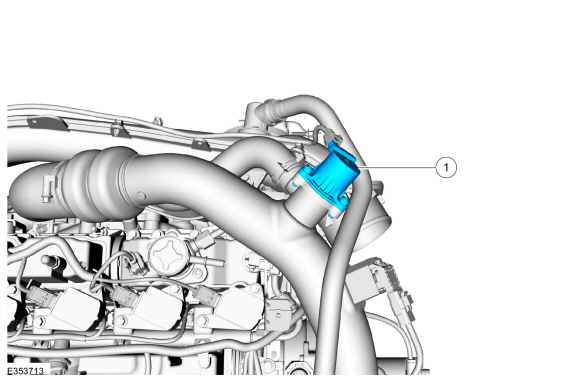 | Item | Description |
| --- | --- |
| 1 | Turbocharger Bypass Valve |
Overview The EEC system provides optimum control of the engine through the enhanced capability of the powertrain control module (PCM). The EEC system also has an on board diagnostic (OBD) monitoring system with features and functions to meet federal regulations on exhaust emissions...
System Operation Refer to the Powertrain Control/Emissions Diagnosis (PC/ED) Manual Section 1 Description and Operation. ..
Other information:
B0013:11, B0013:12, B0013:13 and B0013:1A Refer to Wiring Diagrams Cell 46 for schematic and connector information. Normal Operation and Fault Conditions The RCM continuously monitors the passenger knee airbag circuits for the following faults: Resistance out of range Unexpected voltage Short to ground Faulted passenger knee airbag If a fault is detected,..
Special Tool(s) / General Equipment Trolley Jack Wooden Block Removal With the vehicle in NEUTRAL, position it on a hoist. Refer to: Jacking and Lifting - Overview (100-02 Jacking and Lifting, Description and Operation). Release the tab, remove the retainer and position the degas bottle aside. Remove the retainers and the en..
Categories
The system detects available parallel parking spaces and steers your vehicle into the space. You control the accelerator, gearshift and brakes. The system visually and audibly guides you into a parallel parking space.

Press the button once to search for a parking space.