Ford Fusion: Electronic Engine Controls - 1.5L EcoBoost (118kW/160PS) – I4 / Electronic Engine Controls - Component Location. Description and Operation
Electronic Engine Controls - LH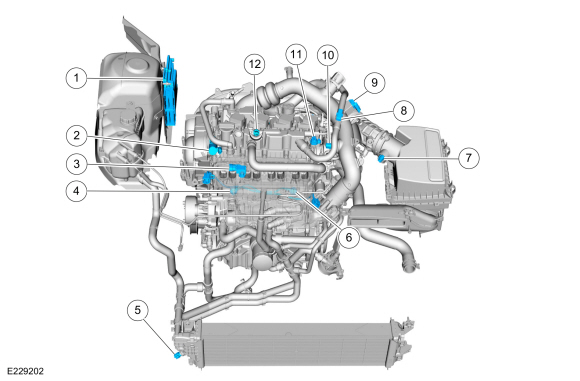 | Item | Description |
| --- | --- |
| 1 | PCM |
| 2 | VCT oil control solenoid intake |
| 3 | MAPT sensor |
| 4 | KS front |
| 5 | CAC coolant temperature sensor |
| 6 | KS rear |
| 7 | IAT sensor |
| 8 | Crankcase pressure sensor |
| 9 | Turbocharger boost pressure sensor |
| 10 | IAT2 |
| 11 | CMP sensor LH intake |
| 12 | FRP sensor |
Electronic Engine Controls - RH
| Item | Description |
| --- | --- |
| 1 | Turbocharger bypass valve solenoid |
| 2 | CMP sensor RH exhaust |
| 3 | ECT sensor |
| 4 | HO2S |
| 5 | Catalyst monitor sensor |
| 6 | CHT sensor |
| 7 | CKP sensor |
| 8 | Wastegate actuator |
| 9 | VCT oil control solenoid exhaust |
Fuel Pressure Sensor
| Item | Description |
| --- | --- |
| 1 | Fuel pressure sensor |
Turbocharger Bypass Valve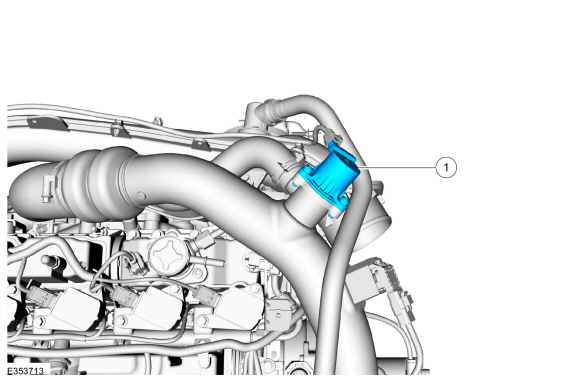 | Item | Description |
| --- | --- |
| 1 | Turbocharger Bypass Valve |
Overview The EEC system provides optimum control of the engine through the enhanced capability of the powertrain control module (PCM). The EEC system also has an on board diagnostic (OBD) monitoring system with features and functions to meet federal regulations on exhaust emissions...
System Operation Refer to the Powertrain Control/Emissions Diagnosis (PC/ED) Manual Section 1 Description and Operation. ..
Other information:
Overview BLIS® The BLIS® aids the driver in assessing whether another vehicle is present within a specific area (blind spot) to either side of the vehicle, extending rearward approximately 6 m (20 ft) beyond the rear bumper while driving on roads and highways. The system is not designed to prevent contact with other vehicles or objects. The BLIS® uses the exterior mirror BLIS®/ CTA ..
Materials Name Specification Motorcraft® Instant Gel AdhesiveTA-19-C WSS-M2G401-B5 Repair NOTE: If re-adhering leather to the front side of the steering wheel only, it will not be necessary to remove the steering wheel. Steering wheel removal is necessary only when repairing loose leather on the backside of the steering wheel. If necessary, remove the steer..
Categories
The system detects available parallel parking spaces and steers your vehicle into the space. You control the accelerator, gearshift and brakes. The system visually and audibly guides you into a parallel parking space.

Press the button once to search for a parking space.