Ford Fusion: Supplemental Restraint System / Clockspring Adjustment. General Procedures

WARNING: If the clockspring is not correctly centralized, it may fail prematurely. If in doubt, repeat the centralizing procedure. Failure to follow these instructions may increase the risk of serious personal injury or death in a crash.
NOTE: Typical clockspring shown, others similar.
WARNING: Before beginning any service procedure in this section, refer to Safety Warnings in section 100-00 General Information. Failure to follow this instruction may result in serious personal injury.

Refer to: Health and Safety Precautions (100-00 General Information, Description and Operation).

NOTICE: Do not over-rotate the clockspring inner rotor. The internal ribbon wire is connected to the clockspring rotor. The internal ribbon wire acts as a stop and can be broken from its internal connection. Failure to follow this instruction may result in component damage and/or system failure.

NOTE: After final positioning, do not allow the clockspring rotor to rotate from this position.

Turn counterclockwise until resistance is felt, then turn clockwise so the electrical connector is in the 12 o'clock position.


Turn the component clockwise through 3 complete turns.

Categories
WARNING: Always ride and drive with your seatback upright and properly fasten your seatbelt. Fit the lap portion of the seatbelt snugly and low across the hips. Position the shoulder portion of the seatbelt across your chest. Pregnant women must follow this practice. See the following figure.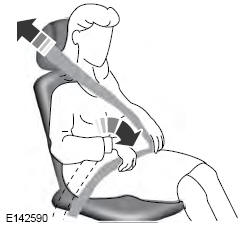 Copyright © 2023 www.fofusion2.com