Ford Fusion: Driving Aids / Blind Spot Information System (IF EQUIPPED)
WARNING: Do not use the blind spot information system as a replacement for using the interior and exterior mirrors or looking over your shoulder before changing lanes. The blind spot information system is not a replacement for careful driving.
WARNING: The system may not operate properly during severe weather conditions, for example snow, ice, heavy rain and spray. Always drive with due care and attention. Failure to take care may result in a crash.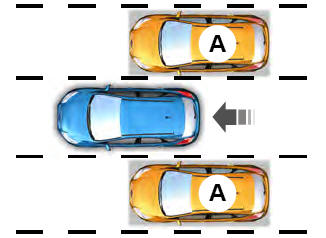 The system is designed to detect vehicles that may have entered the blind spot zone (A). The detection area is on both sides of your vehicle, extending rearward from the exterior mirrors to approximately 13 ft (4 m) beyond the rear bumper.
Note: The system does not prevent contact with other vehicles. It is not designed to detect parked vehicles, pedestrians, animals or other infrastructures.
WARNING: You are responsible for controlling your vehicle at all times. The system is designed to be an aid and does not relieve you of your responsibility to drive with due care and attention...
Vehicles with Automatic Transmission The system turns on when all of the following occur: You start your vehicle. You shift into drive (D). The vehicle speed is greater than 6 mph (10 km/h)...
Other information:
Low/Reverse Clutch Exploded View Item Description 1 Transmission case 2 Low One-Way Clutch (OWC) 3 Rear planetary carrier 4 Low/reverse clutch pressure plate 5 Low/reverse clutch 6 Low/reverse clutch wave spring 7 Low/reverse clutch piston return spring snap ..
Special Tool(s) / General Equipment 303-1556Locking Tool, Timing BeltTKIT-2010B-FLMTKIT-2010B-ROW 303-748Locking Tool, CrankshaftTKIT-2010B-FLMTKIT-2010B-ROW Hose Clamp Remover/Installer 4 mm Drill Bit Removal NOTE: The original coolant pump may not be equipped with a clutch and wiring harness connector. Refer to: Engine Cooling System Health and Safet..