Ford Fusion: Supplemental Restraint System / Airbag and Seatbelt Pretensioner Supplemental Restraint System (SRS) - Component Location. Description and Operation
| Item | Description |
| --- | --- |
| 1 | Passenger side front impact severity sensor |
| 2 | Passenger side seat position sensor |
| 3 | OCS sensor |
| 4 | Passenger side C-pillar side impact sensor |
| 5 | RCM |
| 6 | Passenger front door side impact sensor |
| 7 | Driver side front impact severity sensor |
| 8 | PAD indicator |
| 9 | BECMB |
| 10 | Driver side seat position sensor |
| 11 | Driver side C-pillar side impact sensor |
| 12 | Driver front door side impact sensor |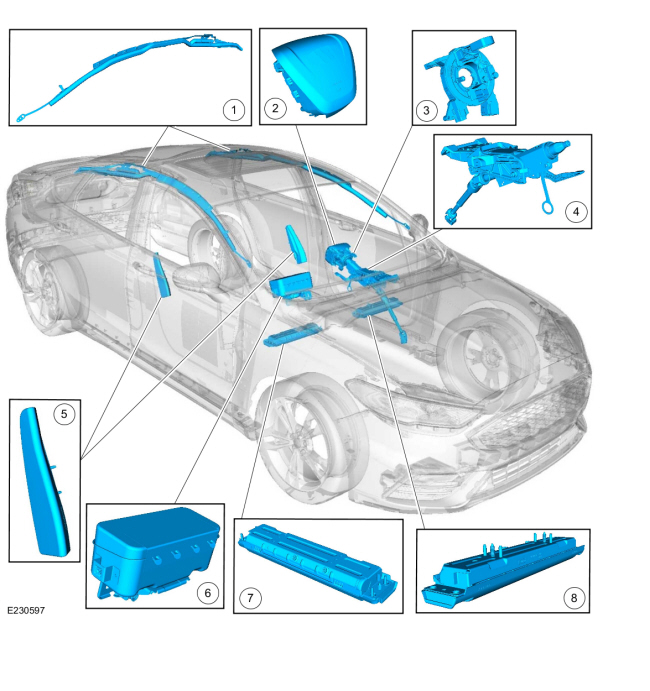 | Item | Description |
| --- | --- |
| 1 | Side air curtain |
| 2 | Driver airbag |
| 3 | Clockspring |
| 4 | Collapsible steering column |
| 5 | Side airbag |
| 6 | Passenger airbag |
| 7 | Passenger knee airbag |
| 8 | Driver knee airbag |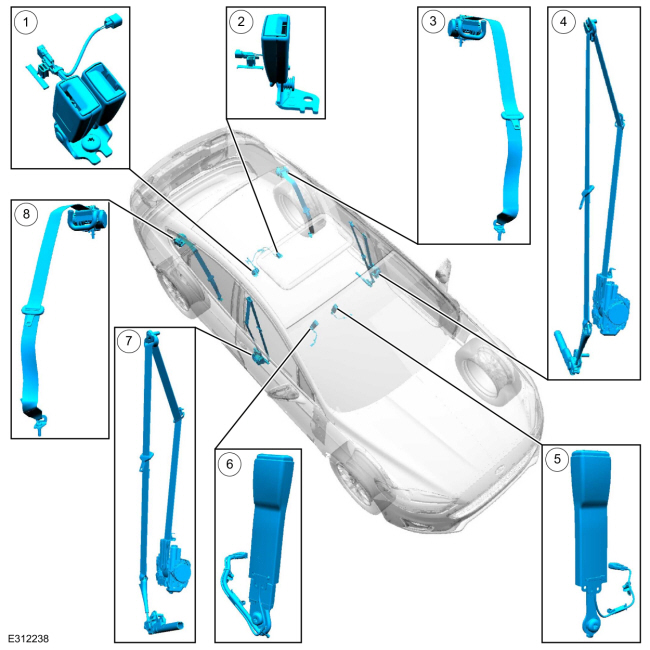 | Item | Description |
| --- | --- |
| 1 | Rear passenger side and center seatbelt buckle assembly (includes seatbelt buckle sensors) |
| 2 | Rear driver side seatbelt buckle (includes seatbelt buckle sensor) |
| 3 | Rear passenger side seatbelt retractor and pretensioner |
| 4 | Driver seatbelt retractor (includes retractor pretensioner and anchor pretensioner) |
| 5 | Driver seatbelt buckle (includes buckle sensor) |
| 6 | Front passenger seatbelt buckle (includes buckle sensor and Belt Tension Sensor (BTS)) |
| 7 | Front passenger seatbelt retractor (includes retractor pretensioner, adaptive load limiter and anchor pretensioner) |
| 8 | Rear passenger side seatbelt retractor and pretensioner |
Overview The RCM continually receives and monitors inputs from the OCSM, BECMB and various other hard-wired switches and sensors. If the RCM detects a sudden vehicle deceleration and/or lateral deceleration based on the information received from the various sensors, and determines that deployment is necessary, the RCM applies voltage and current to deploy the appropriate SRS components...
Other information:
Note: Your vehicle may have split seatbacks that you must fold individually. Note: Make sure the center safety belt is unbuckled before folding the seatback. To lower the seat back(s) from inside the vehicle, do the following: Pull the handle to release the seatback...
California Civil Code Section 1793.2(d) requires that, if a manufacturer or its representative is unable to repair a motor vehicle to conform to the vehicle's applicable express warranty after a reasonable number of attempts, the manufacturer shall be required to either replace the vehicle with one substantially identical or repurchase the vehicle and reimburse the buyer in an amount eq..
Categories
Choosing the Right Fuel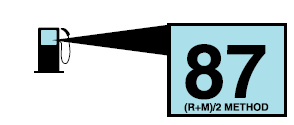 Your vehicle is designed to operate on regular unleaded gasoline with a minimum pump (R+M)/2 octane rating of 87.
Copyright © 2022 www.fofusion2.com