Ford Fusion: Four-Wheel Drive Systems / Specifications
| Item | Specification | Fill Capacity |
| --- | --- | --- |
| Motorcraft SAE 75W-140 Synthetic Rear Axle Lubricant XY-75W140-QL (US); CXY-75W140-1L (Canada) | WSL-M2C192-A | 0.48 qt ( .45 L) a |
| Motorcraft SAE 80W-90 Premium Rear Axle Lubricant XY-80W90-QL (US); CXY-80W90-1L (Canada) | WSP-M2C197-A | 0.58 qt ( .55 L) b |
aPower transfer unit (PTU)
bRear differential unit (RDU)
The AWD system consists of the following: Power transfer unit (PTU) Front and rear halfshafts Rear axle and driveshaft AWD relay module Rear axle with coupling device Torque from the engine is transferred through the transmission to the Power Transfer Unit (PTU)...
Other information:
Special Tool(s) / General Equipment 205-153 (T80T-4000-W) Handle 206-084Installer, Wheel Speed Sensor RingTKIT-2003-FLM/LMTKIT-2003D-F 307-664Case Bushing InstallerTKIT-2009OP-FLMTKIT-2009OP-ROW Flat Headed Screw Driver Hydraulic Press Materials Name Specification Loctite® 6481835922 WSK-M2G349-A4 DISASSEMBLY NOTE: The transm..
The vehicle identification number is located on the left-hand side of the instrument panel. Please note that in the graphic, XXXX is representative of your vehicle identification number. The Vehicle Identification Number contains the following information: World manufacturer identifier Brake system, Gross Vehicle Weight Rating, Restraint Devices and their locations Make, vehicle lin..
Categories
WARNING: Do not adjust the steering wheel when your vehicle is moving.
Note: Make sure that you are sitting in the correct position.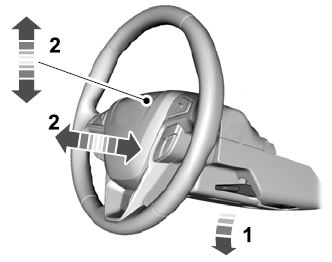 Unlock the steering column. Adjust the steering wheel to the desired position.
Copyright © 2023 www.fofusion2.com