Ford Fusion: Electronic Engine Controls - 1.5L EcoBoost (118kW/160PS) – I4 / Specifications
Lubricants, Fluids, Sealers and Adhesives
Material: Motorcraft® High Temperature Nickel Anti-Seize Lubricant / XL-2
Material: Motorcraft® Orange Prediluted Antifreeze/Coolant / VC-3DIL-B (WSS-M97B44-D2)
Material: Motorcraft® Multi-Purpose Grease Spray / XL-5-A (ESB-M1C93-B)
Material: Motorcraft® Penetrating and Lock Lubricant / XL-1
Overview The EEC system provides optimum control of the engine through the enhanced capability of the powertrain control module (PCM). The EEC system also has an on board diagnostic (OBD) monitoring system with features and functions to meet federal regulations on exhaust emissions...
Other information:
The AWD system consists of the following: Power Transfer Unit (PTU) Rear driveshaft AWD control module Rear axle with coupling device The Power Transfer Unit (PTU) is a gearbox that attaches to the transmission. The PTU directs power to the rear driveshaft through a helical gear spline coupled to the transmission differential case and hypoid/helical ring gear assembl..
Special Tool(s) / General Equipment 8 mm Drill Bit MIG/MAG Welding Equipment Spot Weld Drill Bit Locking Pliers Materials Name Specification Seam SealerTA-2-B, 3M™ 08308, LORD Fusor® 803DTM - Removal NOTICE: Battery electric vehicle (BEV), hybrid electric vehicle (HEV) and plug-in hybrid electric vehicle (PHEV) contain a high-voltage battery..
Categories
WARNING: Do not adjust the steering wheel when your vehicle is moving.
Note: Make sure that you are sitting in the correct position.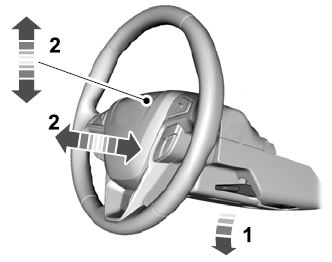 Unlock the steering column. Adjust the steering wheel to the desired position.
Copyright © 2022 www.fofusion2.com