Ford Fusion: Passive Anti-Theft System (PATS) / Passive Anti-Theft System (PATS) - Overview. Description and Operation
Overview
The PATS deters the vehicle from theft by preventing the vehicle from starting unless a programmed key is detected inside the vehicle when the START/STOP button is pressed.
The PATS does not disable an already running vehicle.
System Operation System Diagram Item Description 1 BCM 2 IPC 3 Passive Key 4 RTM 5 GWM 6 GWM 7 PATS Center Antenna 8 Keyless Entry Rear Antenna 9 Ignition Switch 10 Door Handle Antennas 11 PATS Enable 12 PCM Network Message Chart BCM Network Input Messages B..
Other information:
General Specifications - Rear Parking Aid Item Specification Test object position 1 (P1) and position 5 (P5), distance from rear bumper 30 cm (12 in) Test object position 2 (P2) and position 4 (P4), distance from rear bumper 91 cm (36 in) Test object position 3 (P3), distance from rear bumper 152 cm (60 in) ..
Overview The warning chimes provide the driver with audible warnings that act as reminders and supplemental alerts to visual IPC indications such as gauges, indicators and message center warnings. The IPC controls all warning chimes based on messages received from external modules. The IPC prioritizes the chimes according to a preset hierarchy programmed into the IPC software. When more than one ..
Categories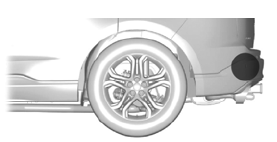 The sensors are behind the rear bumper on both sides of your vehicle.
Copyright © 2022 www.fofusion2.com