Ford Fusion: Body Repairs - General Information / Noise, Vibration and Harshness. Description and Operation
Sound Deadeners and Insulators
NOTICE: Mastic is made of a combustible material and should be removed prior to carrying out welding procedures to the area. Heat zones from welding near mastic may cause the mastic material to burn.
NOTICE: Corrosion protection must be restored to the area after the mastic material is applied. Corrosion protection products may be wax based and loss of adhesion may occur if applied prior to mastic installation.
NOTE: The following illustrations serve as a reference to indicate mastic patch (butyl) locations. Additional insulators and sound deadeners are used beyond those indicated in these illustrations.
Floor Pan
Roof Panel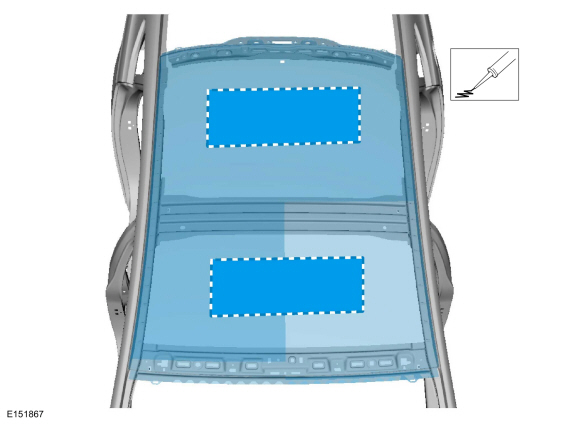 Roof Panel with Roof Opening Panel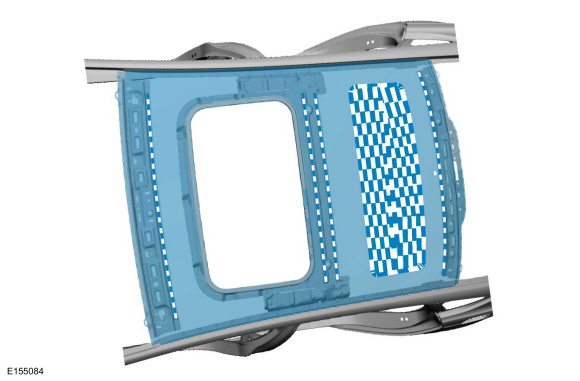 Front Door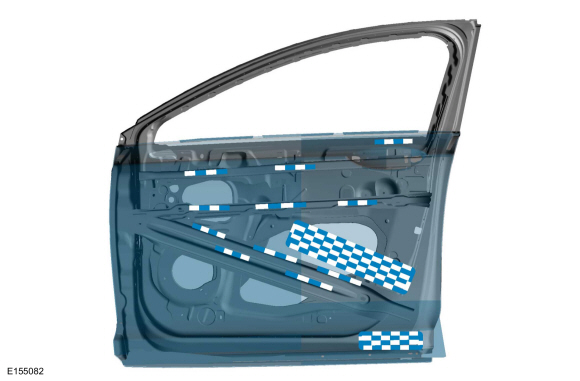 Rear Door
Adhesives NOTE: The following illustrations are examples of structural adhesive application and are not all inclusive. Body Side Outer to Body Side Inner NOTE: Left Hand (LH) side shown, Right Hand (RH) side similar...
Special Tool(s) / General Equipment Rust Protection Coating Gun Undercoating Gun Materials Name Specification ValuGard™ Premium UndercoatingVG101, VG101A - ValuGard™ Rust InhibitorVG104, VG104A - Motorcraft® Metal Surface Prep WipesZC-31-B - Repair NOTE: Undercoating NOTE: The following illustrations are not vehicle spe..
Other information:
Following a Vehicle WARNING: When following a vehicle that is braking, your vehicle does not always decelerate quickly enough to avoid a crash without driver intervention. Apply the brakes when necessary. Failure to follow this instruction could result in personal injury or death. WARNING: The system only warns of vehicles detected by the radar sensor. In some cases there may be no warning..
Removal NOTE: Removal steps in this procedure may contain installation details. NOTE: If installing a new module, it is necessary to upload the module configuration information to the scan tool prior to removing the module. This information must be downloaded into the new module after installation. Upload the GWM configuration to the scan tool by following the scan tool on-scr..