Ford Fusion: Doors and Locks / Interior Luggage Compartment Release
WARNING: Keep vehicle doors and luggage compartment locked and keep keys and remote transmitters out of a child's reach. Unsupervised children could lock themselves in the trunk and risk injury. Children should be taught not to play in vehicles.
WARNING: Do not leave children or animals unattended in the vehicle. On hot days, the temperature in the trunk or vehicle interior can rise very quickly. Exposure of people or animals to these high temperatures for even a short time can cause death or serious heat-related injuries, including brain damage. Small children are particularly at risk.
Your vehicle is equipped with a release handle that provides a means of escape for children and adults if they become locked inside the luggage compartment.
Adults should familiarize themselves with the operation and location of the release handle.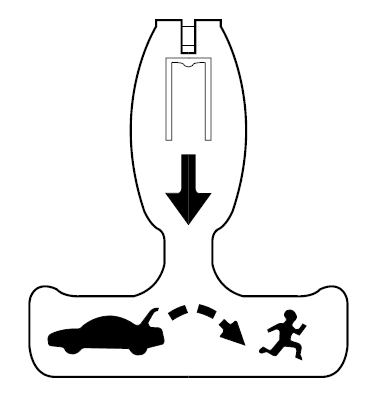 The handle is located inside the luggage compartment either on the luggage compartment door (lid) or near the tail lamps. It is composed of a material that will glow for hours in darkness following brief exposure to ambient light.
Pull the handle and push up on the luggage compartment door (lid) to open from within the luggage compartment.
SECURICODE™ Keyless Entry Keypad The keypad is near the driver window. It illuminates when touched. Note: If you enter your entry code too fast on the keypad, the unlock function may not work...
Other information:
Note: Your vehicle may have split seatbacks that you must fold individually. Note: Make sure the center safety belt is unbuckled before folding the seatback. To lower the seat back(s) from inside the vehicle, do the following: Pull the handle to release the seatback. Push the seatback forward. Stow the safety belt in the stowage clip. This will prevent the safety belt from getting ca..
Tuning a Station You can use the tune or seek controls on the radio bezel to select a station. To tune a station using the touchscreen, select: A pop up appears, allowing you to type in the frequency of a station. You can only enter a valid station for the source you are currently listening to. You can press the backspace button to delete the previously entered number. Once you have entered..
Categories
The system detects available parallel parking spaces and steers your vehicle into the space. You control the accelerator, gearshift and brakes. The system visually and audibly guides you into a parallel parking space.

Press the button once to search for a parking space.