Ford Fusion: Intake Air Distribution and Filtering - 1.5L EcoBoost (118kW/160PS) – I4 / Intake Air Distribution and Filtering - Overview. Description and Operation
Overview
The air intake system cleans intake air with a replaceable, dry-type engine Air Cleaner (ACL) element made of treated, pleated paper. A new Air Cleaner (ACL) element must be installed periodically as scheduled. Engine performance and fuel economy are adversely affected when maximum restriction of the Air Cleaner (ACL) element is reached.
The CAC is a liquid to air heat exchanger located inside the intake manifold. It's function is to remove additional heat from the intake air charge. This increases the density of the air flow entering the cylinders providing additional power output and efficiency.
The CAC radiator is a heat exchanger that is located in front of the main radiator below the A/C condenser. This location allows ambient air to pass through it removing heat from the coolant returning from the CAC and the turbocharger.
The air intake system measures air temperature with the TCIPT.
Component Location Item Description 1 CAC 2 CAC radiator 3 CAC coolant pump 4 Air cleaner 5 Air cleaner outlet pipe ..
Other information:
Special Tool(s) / General Equipment Interior Trim Remover Removal Remove the USB port bezel. Disconnect the electrical connectors. Use the General Equipment: Interior Trim Remover Installation To install, reverse the removal procedure. ..
SYNC is an in-vehicle communications system that works with your Bluetooth enabled cellular phone and portable media player. This allows you to: Make and receive calls. Access and play music from your portable music player. Use 911 Assist or Emergency Assistance and applications via SYNC AppLink.* Access phonebook contacts and music using voice commands. Stream music from your conne..
Categories
WARNING: Do not adjust the steering wheel when your vehicle is moving.
Note: Make sure that you are sitting in the correct position.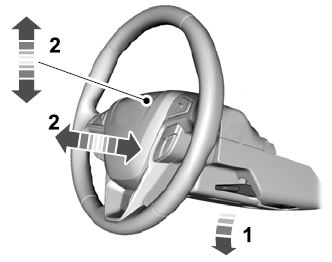 Unlock the steering column. Adjust the steering wheel to the desired position.