Ford Fusion: Intake Air Distribution and Filtering - 1.5L EcoBoost (118kW/160PS) – I4 / Intake Air Distribution and Filtering - Overview. Description and Operation
Overview
The air intake system cleans intake air with a replaceable, dry-type engine Air Cleaner (ACL) element made of treated, pleated paper. A new Air Cleaner (ACL) element must be installed periodically as scheduled. Engine performance and fuel economy are adversely affected when maximum restriction of the Air Cleaner (ACL) element is reached.
The CAC is a liquid to air heat exchanger located inside the intake manifold. It's function is to remove additional heat from the intake air charge. This increases the density of the air flow entering the cylinders providing additional power output and efficiency.
The CAC radiator is a heat exchanger that is located in front of the main radiator below the A/C condenser. This location allows ambient air to pass through it removing heat from the coolant returning from the CAC and the turbocharger.
The air intake system measures air temperature with the TCIPT.
Component Location Item Description 1 CAC 2 CAC radiator 3 CAC coolant pump 4 Air cleaner 5 Air cleaner outlet pipe ..
Other information:
Breaking-In You need to break in new tires for approximately 300 mi (480 km). During this time, your vehicle may exhibit some unusual driving characteristics. Avoid driving too fast during the first 1,000 mi (1,600 km). Vary your speed frequently and change up through the gears early. Do not labor the engine. Do not tow during the first 1,000 mi (1,600 km). Driving Through Water WARNING: Do..
WARNING: Batteries normally produce explosive gases which can cause personal injury. Therefore, do not allow flames, sparks or lighted substances to come near the battery. When working near the battery, always shield your face and protect your eyes. Always provide correct ventilation. WARNING: When lifting a plastic-cased battery, excessive pressure on the end walls could cause acid to fl..
Categories
WARNING: Do not adjust the steering wheel when your vehicle is moving.
Note: Make sure that you are sitting in the correct position.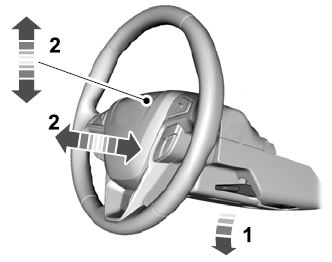 Unlock the steering column. Adjust the steering wheel to the desired position.