Ford Fusion: Fuel Tank and Lines - 1.5L EcoBoost (118kW/160PS) – I4 / Fuel Tank Filler Pipe. Removal and Installation
Removal
NOTE: Removal steps in this procedure may contain installation steps.
WARNING: Before beginning any service procedure in this section, refer to Safety Warnings in section 100-00 General Information. Failure to follow this instruction may result in serious personal injury.

Refer to: Gasoline and Gasoline-Ethanol Fuel Systems Health and Safety Precautions (100-00 General Information, Description and Operation).

With the vehicle in NEUTRAL, position it on a hoist.
Refer to: Jacking and Lifting - Overview (100-02 Jacking and Lifting, Description and Operation).

Disconnect the battery ground cable.
Refer to: Battery Disconnect and Connect (414-01 Battery, Mounting and Cables, General Procedures).

Drain the fuel tank.
Refer to: Fuel Tank Draining (310-00A Fuel System - General Information - 1.5L EcoBoost (118kW/160PS) – I4, General Procedures).

Remove the rear wheel on the left-hand side.
Refer to: Wheel and Tire (204-04A Wheels and Tires, Removal and Installation).

Remove the nuts.

Remove the pushpins and position aside rear wheel splash shield aside.

Remove the screws, the clip and the air deflector.

Disconnect the vapor tube Quick Release Coupling and remove the bolt.
Torque: 80 lb.in (9 Nm)
Release the clamp and disconnect the fuel tank filler pipe from the fuel tank.
Torque: 36 lb.in (4.1 Nm)
Installation
To install, reverse the removal procedure.

Categories
WARNING: Do not adjust the steering wheel when your vehicle is moving.
Note: Make sure that you are sitting in the correct position.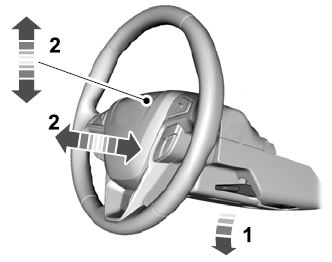 Unlock the steering column. Adjust the steering wheel to the desired position.
Copyright © 2023 www.fofusion2.com