Ford Fusion: Body and Paint / Frame and Mounting
Materials Name Specification Motorcraft® Detail WashZC-3-A ESR-M14P4-A Motorcraft® Acid NeutralizerZC-1-A - Motorcraft® Alkaline NeutralizerZC-2-A - Repair NOTE: Refinishing - Environmental Damage NOTICE: Never paint over iron particles as rust spots will reoccur...
Other information:
Special Tool(s) / General Equipment 100-001 (T50T-100-A) Slide Hammer 303-175 (T82L-6316-A) Installer, Crankshaft Vibration DamperTKIT-1982-F 303-335 (T88T-6701-A) Installer, Front Cover Oil SealTKIT-1988-FLMTKIT-1988-F 303-420 (T92P-6701-BH) Installer, Crankshaft Front Oil SealTKIT-1992-FLMH/LMHTKIT-1992-LMH/MH 308-375Remover, Input Shaft SealTKIT-2005U-..
Removal Vehicles with push button start NOTE: LH side shown, RH side similar. Remove the rear door trim panel. Refer to: Rear Door Trim Panel (501-05 Interior Trim and Ornamentation, Removal and Installation). Remove the rear door watershield. All vehicles Remove the grommet. Remove the rear door ha..
Categories
Choosing the Right Fuel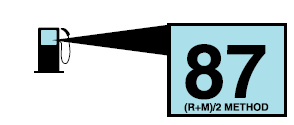 Your vehicle is designed to operate on regular unleaded gasoline with a minimum pump (R+M)/2 octane rating of 87.
Copyright © 2023 www.fofusion2.com