Ford Fusion: Evaporative Emissions - 1.5L EcoBoost (118kW/160PS) – I4 / Evaporative Emission Canister. Removal and Installation
Removal
NOTE: Removal steps in this procedure may contain installation details.
With the vehicle in NEUTRAL, position it on a hoist.
Refer to: Jacking and Lifting - Overview (100-02 Jacking and Lifting, Description and Operation).

Disconnect the negative battery cable.
Refer to: Battery Disconnect and Connect (414-01 Battery, Mounting and Cables, General Procedures).

NOTE: Typical application shown.

NOTE: Clean the EVAP canister vent solenoid electrical connector and the immediate surrounding area of any dirt or foreign material.

Disconnect the EVAP canister quick connect couplings.
Refer to: Quick Release Coupling (310-00A Fuel System - General Information - 1.5L EcoBoost (118kW/160PS) – I4, General Procedures).


Disconnect the EVAP canister electrical connector, vent tube and remove the nuts and the EVAP canister.
Torque: 62 lb.in (7 Nm)
Installation
To install, reverse the removal procedure.

Categories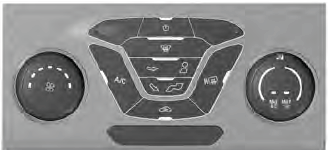 Note: Depending on your vehicle option package, the controls may look different from what you see here.
Copyright © 2022 www.fofusion2.com