Ford Fusion: Capacities and Specifications / Engine Specifications - 1.5L EcoBoost™, 2.0L EcoBoost™, 2.5L, 2.7L EcoBoost™
Engine Specifications - 1.5L EcoBoost™

Drivebelt Routing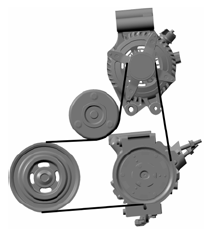 Engine Specifications - 2.0L EcoBoost™

Drivebelt Routing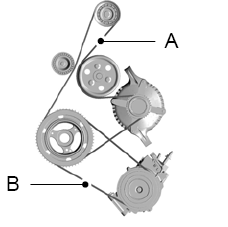 Long drivebelt is on first pulley groove closest to engine
Short drivebelt is on second pulley groove farthest from engine
Engine Specifications - 2.5L

Drivebelt Routing
Long drivebelt is on first pulley groove closest to engine
Short drivebelt is on second pulley groove farthest from engine
Engine Specifications - 2.7L EcoBoost™

Drivebelt Routing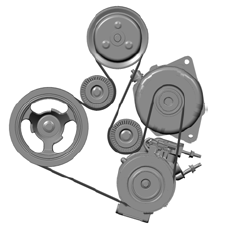 Motorcraft Parts - 1.5L EcoBoost™ We recommend Motorcraft replacement parts available at your Ford dealer or at fordparts.com for scheduled maintenance...
Other information:
Overview NOTICE: Repairs of the fuel system are to be achieved only by replacement of the failed component(s). Repair of a fuel system component should not be attempted. NOTICE: If directed during assembly of fuel system components, lubricate any seal(s) only with specified material...
Special Tool(s) / General Equipment 8 mm Drill Bit MIG/MAG Welding Equipment Spot Weld Drill Bit Locking Pliers Removal NOTICE: Battery electric vehicle (BEV), hybrid electric vehicle (HEV) and plug-in hybrid electric vehicle (PHEV) contain a high-voltage battery...