Ford Fusion: Driving Hints
Reduced Engine Performance WARNING: If you continue to drive your vehicle when the engine is overheating, the engine could stop without warning. Failure to follow this instruction could result in the loss of control of your vehicle...
Other information:
Overview Multiplexing is a method of sending 2 or more signals simultaneously over a single circuit. Multiplexing allows 2 or more electronic modules (nodes) to communicate over a twisted wire pair [data (+) and data (-)] network. The information or messages that can be communicated on these wires consists of commands, status or data...
System Operation System Diagram Item Description 1 BCM 2 DDM 3 PDM 4 DSP 5 ACM 6 PSCM 7 GPSM 8 IPMA 9 OCSM 10 RCM 11 PCM 12 GWM 13 FCDIM 14 DLC 15 SODL 16 SODR 17 DSM 18 HUD 19 RTM 20 ..
Categories
Direction Indicators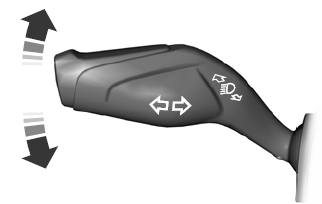 Push the lever up or down to use the direction indicators.
Copyright © 2023 www.fofusion2.com