Ford Fusion: Driving Hints / Reduced Engine Performance. Economical Driving
Reduced Engine Performance
WARNING: If you continue to drive your vehicle when the engine is overheating, the engine could stop without warning. Failure to follow this instruction could result in the loss of control of your vehicle.
If the engine coolant temperature gauge needle moves to the upper limit position, the engine is overheating.
You must only drive your vehicle for a short distance if the engine overheats. The distance you can travel depends on ambient temperature, vehicle load and terrain. The engine continues to operate with limited power for a short period of time.
If the engine temperature continues to rise, the fuel supply to the engine reduces. The air conditioning switches off and the engine cooling fan operates continually.
Gradually reduce your speed and stop your vehicle as soon as it is safe to do so.
Immediately switch the engine off to prevent severe engine damage.
Wait for the engine to cool down.
Check the coolant level.
Have your vehicle checked as soon as possible.
Economical Driving
Fuel economy is affected by several things such as how you drive, the conditions you drive under and how you maintain your vehicle.
There are some things to keep in mind that may improve your fuel economy:
Accelerate and slow down in a smooth, moderate fashion.
Drive at steady speeds.
Anticipate stops; slowing down may eliminate the need to stop.
Combine errands and minimize stop-and-go driving (When running errands, go to the furthest destination first and then work your way back home).
Close the windows for high-speed driving.
Drive at reasonable speeds.
Keep the tires properly inflated and use only the recommended size.
Use the recommended engine oil.
Perform all regularly scheduled maintenance.
There are also some things you may want to avoid doing because they reduce your fuel economy:
Avoid sudden or hard accelerations.
Avoid revving the engine before turning off the car.
Avoid long idle periods.
Do not warm up your vehicle on cold mornings.
Reduce the use of air conditioning and heat.
Avoid using speed control in hilly terrain.
Do not rest your foot on the brake pedal while driving.
Avoid carrying unnecessary weight.
Avoid adding particular accessories to your vehicle (e.g. bug deflectors, rollbars/light bars, running boards, ski racks).
Avoid driving with the wheels out of alignment.
Breaking-In You need to break in new tires for approximately 300 mi (480 km). During this time, your vehicle may exhibit some unusual driving characteristics...
Other information:
Special Tool(s) / General Equipment 8 mm Drill Bit MIG/MAG Welding Equipment Spot Weld Drill Bit Locking Pliers Removal NOTICE: Battery electric vehicle (BEV), hybrid electric vehicle (HEV) and plug-in hybrid electric vehicle (PHEV) contain a high-voltage battery...
Special Tool(s) / General Equipment 303-1097Locking Tool, Variable Camshaft Timing Oil Control UnitTKIT-2010B-FLMTKIT-2010B-ROW 303-1552Alignment Tool, CamshaftTKIT-2012A-FLTKIT-2012A-ROW Hot Air Gun Hose Clamp Remover/Installer Materials Name Specification Flange SealantCU7Z-19B508-A WSS-M2G348-A11 Motorcraft® Metal Surface Prep WipesZC-31-B -&..
Categories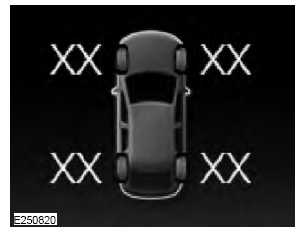 The tire pressure monitoring system measures pressure in your road tires and sends the tire pressure readings to your vehicle. You can view the tire pressure readings through the information display. The low tire pressure warning light will turn on if the tire pressure is significantly low. Once the light is illuminated, your tires are under-inflated and need to be inflated to the manufacturer's recommended tire pressure. Even if the light turns on and a short time later turns off, your tire pressure still needs to be checked.