Ford Fusion: Cross Traffic Alert (IF EQUIPPED) / Cross Traffic Alert Indicator. Cross Traffic Alert Information Messages
Cross Traffic Alert Indicator

When the system detects an approaching vehicle, a tone sounds, a warning lamp illuminates in the relevant exterior mirror and arrows appear in the information display to show which side the approaching vehicle is coming from.
Note: If arrows do not display, a message appears in the information display.
If the system malfunctions, a warning lamp illuminates in the instrument cluster and a message appears in the information display. Have your vehicle checked as soon as possible.
Note: In exceptional conditions, the system could alert you, even when there is nothing in the detection zone, for example a vehicle passing further away from your vehicle.
Cross Traffic Alert Information Messages

Categories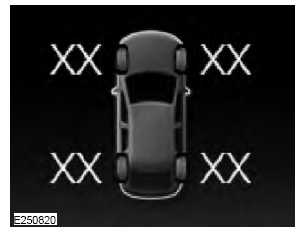 The tire pressure monitoring system measures pressure in your road tires and sends the tire pressure readings to your vehicle. You can view the tire pressure readings through the information display. The low tire pressure warning light will turn on if the tire pressure is significantly low. Once the light is illuminated, your tires are under-inflated and need to be inflated to the manufacturer's recommended tire pressure. Even if the light turns on and a short time later turns off, your tire pressure still needs to be checked.