Ford Fusion: SYNC™ / Using SYNC™ With Your Media Player
SYNC supports digital media sources including: iPod, Bluetooth devices, and most USB drives. SYNC also supports audio formats, such as MP3, WMA, WAV and ACC.
Media Sources
The AUX or MEDIA button allows you to view and select available media sources. Press the AUX or MEDIA button to view your sources. Use the directional arrows and OK button to select your source. You can also use the steering wheel audio controls.
Audio Voice Commands

Press the voice button. You can do things like play a specific song or album, or tune to a radio station. When prompted, say a command. See the following table for example commands. Not all commands may be available on your vehicle.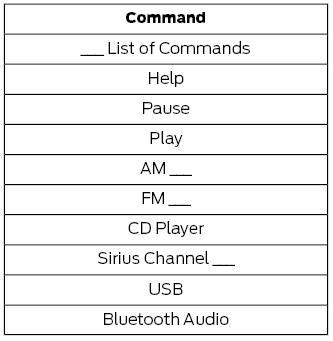 __ is a dynamic listing, meaning that it could be the name of anything, such as an artist, station, or media source.
911 Assist: Can alert 911 in the event of an emergency. SYNC AppLink: Allows you to connect to and use certain applications (if your phone is compatible)...
Your SYNC system is easy to use. However, should questions arise, see the tables below. Use your regional Ford website at any time to check your phone's compatibility, register your account and set preferences as well as access a customer representative via an online chat (during certain hours)...
Other information:
Emergency Towing WARNING: If your vehicle has a steering wheel lock make sure the ignition is in the accessory or on position when being towed. If your vehicle becomes inoperable (without access to wheel dollies, car-hauling trailer, or flatbed transport vehicle), it can be flat-towed (all wheels on the ground, regardless of the powertrain and transmission configuration) under the followi..
Note: Depending on your vehicle option package, the controls may look different from what you see here. Directing Air to the Instrument Panel Air Vents Press and release the button to direct airflow to instrument panel air vents. Directing Air to the Footwell Air Vents Press and release the button to direct airflow to footwell air vents. Setting the Blower Motor Speed Turn the control t..