Ford Fusion: Introduction / Special Notices
New Vehicle Limited Warranty
Vehicles sold in the United States and Canada
For a detailed description of what is covered by your New Vehicle Limited Warranty, see your warranty guide that is available online. For more information, refer to our website and download your copy of the warranty guide.
Vehicles sold outside the United States and Canada
For a detailed description of what is covered by your New Vehicle Limited Warranty, see the warranty guide that is provided to you along with your Owner's Manual.
Special Instructions
For your added safety, your vehicle is fitted with sophisticated electronic controls.
WARNING: You risk death or serious injury to yourself and others if you do not follow the instruction highlighted by the warning symbol. Failure to follow the specific warnings and instructions could result in personal injury.
WARNING: NEVER use a rearward facing child restraint on a seat protected by an ACTIVE AIRBAG in front of it, DEATH or SERIOUS INJURY to the CHILD can occur.
On Board Diagnostics Data Link Connector
WARNING: Do not connect wireless plug-in devices to the data link connector. Unauthorized third parties could gain access to vehicle data and impair the performance of safety related systems. Only allow repair facilities that follow our service and repair instructions to connect their equipment to the data link connector.
Your vehicle has an OBD Data Link Connector (DLC) that is used in conjunction with a diagnostic scan tool for vehicle diagnostics, repairs and reprogramming services. Installing an aftermarket device that uses the DLC during normal driving for purposes such as remote insurance company monitoring, transmission of vehicle data to other devices or entities, or altering the performance of the vehicle, may cause interference with or even damage to vehicle systems. We do not recommend or endorse the use of aftermarket plug-in devices unless approved by Ford. The vehicle Warranty will not cover damage caused by an aftermarket plug-in device.
Perchlorate Certain components in your vehicle such as airbag modules, seatbelt pretensioners and remote control batteries may contain perchlorate material...
Mobile Communications Equipment WARNING: Driving while distracted can result in loss of vehicle control, crash and injury. We strongly recommend that you use extreme caution when using any device that may take your focus off the road...
Other information:
The following warning lamps and indicators alert you to a vehicle condition that may become serious. Some lamps illuminate when you start your vehicle to make sure they work. If any lamps remain on after starting your vehicle, refer to the respective system warning lamp for further information...
Special Tool(s) / General Equipment Resistance Spotwelding Equipment Spherical Cutter Hot Air Gun 8 mm Drill Bit MIG/MAG Welding Equipment Spot Weld Drill Bit Locking Pliers Materials Name Specification Metal Bonding AdhesiveTA-1, TA-1-B, 3M™ 08115, LORD Fusor® 108B - Seam SealerTA-2-B, 3M™ 08308, LORD Fusor® 803DTM - ..
Categories
WARNING: Do not adjust the steering wheel when your vehicle is moving.
Note: Make sure that you are sitting in the correct position.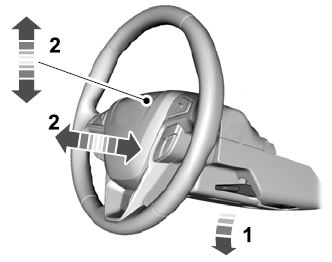 Unlock the steering column. Adjust the steering wheel to the desired position.