Ford Fusion: Entertainment / SiriusXM® Satellite Radio (If Activated)
Note: This feature may not be available in all markets and requires an active subscription.

SiriusXM satellite radio is a subscription-based satellite radio service that broadcasts a variety of music, sports, news, weather, traffic and entertainment programming. Your factory-installed SiriusXM satellite radio system includes hardware and a limited subscription term that begins on the date of sale or lease of your vehicle. See an authorized dealer for availability.
For more information on extended subscription terms (a service fee is required), the online media player and a list of SiriusXM satellite radio channels, and other features, please visit www.siriusxm.com in the United States, www.siriusxm.ca in Canada, or call SiriusXM at 1-888-539-7474.
Note: SiriusXM reserves the unrestricted right to change, rearrange, add or delete programming. This includes canceling, moving or adding particular channels, and its prices, at any time, with or without notice to you. We are not responsible for any such programming changes.
Note: This receiver includes the eCos real-time operating system. eCos is published under the eCos License.
The following buttons are available for SiriusXM: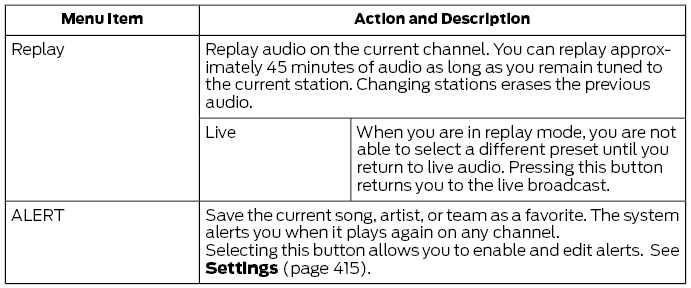 Memory Presets
To set a preset, tune to the station then press and hold one of the memory preset buttons. The audio mutes briefly while the system saves the station and returns once the station is stored.
You may be able to add additional preset pages using the settings option on the feature bar.
Satellite Radio Electronic Serial Number (ESN)
You need your ESN to activate, modify or track your satellite radio account.
SiriusXM Satellite Radio Reception Factors and Troubleshooting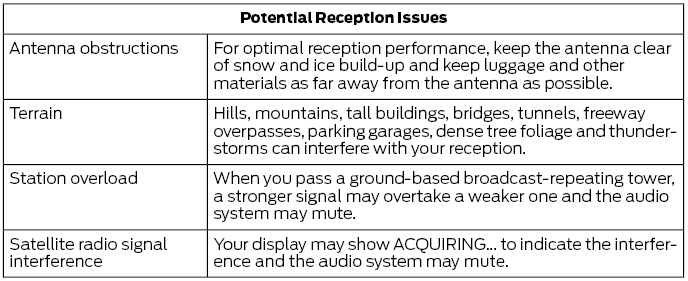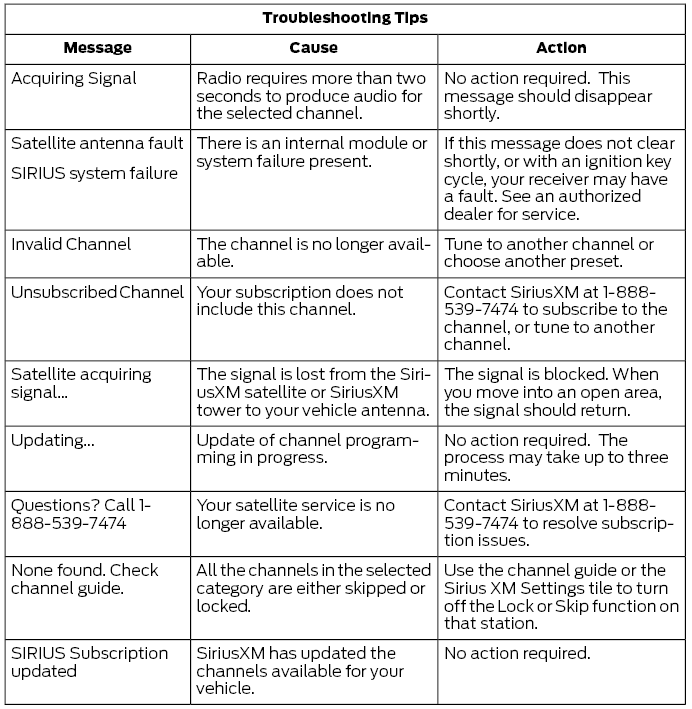 Tuning a Station You can use the tune or seek controls on the radio bezel to select a station. To tune a station using the touchscreen, select: A pop up appears, allowing you to type in the frequency of a station...
To activate HD radio, please see the Radio Settings in the Settings Chapter. Note: HD Radio broadcasts are not available in all markets. HD Radio technology is the digital evolution of analog AM/FM radio...
Other information:
Special Tool(s) / General Equipment Resistance Spotwelding Equipment Hot Air Gun 8 mm Drill Bit MIG/MAG Welding Equipment Spot Weld Drill Bit Locking Pliers Materials Name Specification Metal Bonding AdhesiveTA-1, TA-1-B, 3M™ 08115, LORD Fusor® 108B - Seam SealerTA-2-B, 3M™ 08308, LORD Fusor® 803DTM - Removal NO..
General Specifications Item Specification Ball Joint Deflection Lower 0.0 mm (0.0 in) - 0.2 mm (0.0079 in) Ride Height Front 62.9 mm (2.476 in) ± 12 mm (0.472 in) Rear 32.3 mm (1.272 in) ± 10 mm (0.394 in) Alignment Specifications Item ..