Ford Fusion: Using Adaptive Cruise Control (IF EQUIPPED) / Setting the Gap Distance
You can decrease or increase the distance between your vehicle and the vehicle in front by pressing the gap control.

Press and release to decrease the gap distance.

Press and release to increase the gap distance.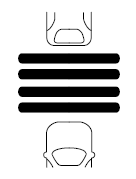 The selected gap appears in the information display as shown by the bars in the image.
Note: The gap setting is time dependent and therefore the distance adjusts with your vehicle speed.
Note: It is your responsibility to select a gap appropriate to the driving conditions.
Adaptive Cruise Control Gap Settings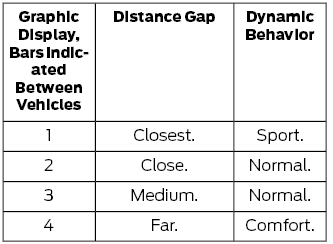 Each time you switch the system on, it selects the last chosen gap setting.