Ford Fusion: Power Brake Actuation / Brake Vacuum Pump - 1.5L EcoBoost (118kW/160PS) – I4. Removal and Installation
Materials
Name
Specification
Motorcraft® Metal Surface Prep Wipes
ZC-31-B
-

Flange Sealant - Anaerobic
Loctite® 51031
WSK-M2G348-A7

Removal
NOTE: Removal steps in this procedure may contain installation details.
Remove the engine appearance cover.

Remove the CAC intake pipe. Refer to: Charge Air Cooler (CAC) Intake Pipe (303-12A Intake Air Distribution and Filtering - 1.5L EcoBoost (118kW/160PS) – I4, Removal and Installation).

Squeeze the sides of the coupling and disconnect the vacuum tube.




Release the clamp and disconnect the vacuum hose.


Detach the wiring and vacuum hose retainers.


Remove the nuts and position the vacuum control regulator aside. Discard the nuts.
Torque: 53 lb.in (6 Nm)
Remove the nuts and position the EVAP purge valve and bracket aside.
Torque: 62 lb.in (7 Nm)
NOTE: Manually align the brake vacuum pump drive key with the camshaft slot before installation.




Remove the bolts and the brake vacuum pump. Discard the bolts.
Torque: 89 lb.in (10 Nm)

Remove and discard the gasket.

NOTE: Make sure the mating surfaces are clean and free of foreign material and thread lock residue is cleaned from the bolt holes.

Clean the mating surfaces and tap the bolt holes.
Material: Motorcraft® Metal Surface Prep Wipes / ZC-31-B
Installation
NOTE: Make sure a new gasket is installed.

To install, reverse the removal procedure.

NOTE: If the brake vacuum pump is not secured within 10 minutes of sealant application, the sealant must be removed and the sealing area cleaned with metal surface prep. Failure to follow this procedure can cause future oil leakage.

Apply an 3mm bead of the specified sealant in the location shown.
Material: Flange Sealant - Anaerobic / Loctite® 51031 (WSK-M2G348-A7)
Categories
Choosing the Right Fuel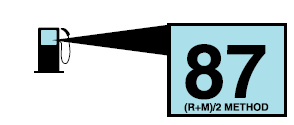 Your vehicle is designed to operate on regular unleaded gasoline with a minimum pump (R+M)/2 octane rating of 87.
Copyright © 2023 www.fofusion2.com