Ford Fusion: Scheduled Maintenance / Scheduled Maintenance Record
After the scheduled maintenance services are performed, record the Repair Order #, Distance and Engine Hours in the boxes provided.

If you operate your vehicle primarily in any of the following conditions, you need to perform extra maintenance as indicated. If you operate your vehicle occasionally under any of these conditions, it is not necessary to perform the extra maintenance...
Other information:
Special Tool(s) / General Equipment 100-002 (TOOL-4201-C) Holding Fixture with Dial Indicator Gauge Inspection NOTE: Driveline vibration exhibits a higher frequency and lower amplitude then high-speed shake. Driveline vibration is directly related to the speed of the vehicle and is noticed at various speeds. Driveline vibration can be perceived as a tremor in the floorpan or h..
Clearing All MyKeys When you clear your MyKeys, you remove all restrictions and return all MyKeys to their original admin key status at once. To clear all MyKeys of all MyKey settings, use the information display. Switch the ignition on using an admin key. Access the main menu in the information display and then scroll through the menus to begin clearing your MyKey programming. Fol..
Categories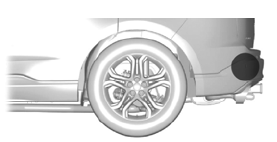 The sensors are behind the rear bumper on both sides of your vehicle.
Copyright © 2023 www.fofusion2.com